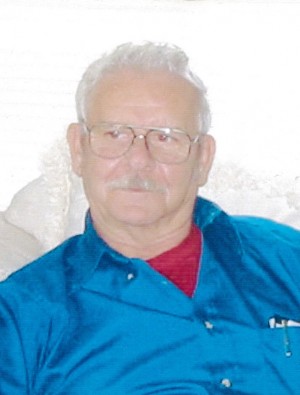 James Francis "Jimmy" Hull, age 81, died Wednesday, April 1, 2015 at Borgess Medical Center in Kalamazoo. He was born near Constantine on Sep. 20, 1933 the son of Harry and Bertha (King) Hull and was a lifetime resident of the area. He attended Roystown Country School and worked at Kellogg Nursery. He later worked at Clifton Engineering and was a volunteer for G and G Ambulance in Three Rivers. Jimmy retired from Continental Can Co. after 43 years of service. He was a Golden Eagle at Lodge 2303 in Three Rivers, a member of the Crystal Crackers Radio Club, St. Joe Valley Boat Club, and the N.R.A. He was a NASCAR fan and enjoyed fishing and hunting in his spare time.
Jimmy was married to Mary Alice Kent in 1953 and they were later divorced. To their union were born four children, Donald, Jon, Judy, and Lucinda. He was married to Betty Welborn Brown in 1976, joining Betty's three children, Dale, Dianna, and Nadine. Betty died in 1996.
Jimmy is survived by three children, Donald (Jamie) Hull of Kentucky, Jon (Vickie) Hull and Judy (Daniel) Ludwig both of Three Rivers; stepchildren, Dale Brown of Fayette, AL, Dianna (Mike) Johnson of Three Rivers, and Nadine (Richard) Byers of Marcellus; 22 grandchildren; and many great grandchildren and great-great-grandchildren; four siblings, Dorothy Schrock, Roger Hull, Virginia (Larry) Weaver, and Stephen Hull; several nieces and nephews. He was preceded in death by his parents; wife, Betty; daughter Cindy Young; brother, Harry "Sonny" Hull; and two sisters, Barb Wordelman and Faye Oldenburg.
The family will receive friends from 5 to 8 PM Saturday at the Eickhoff Farrand Halverson Chapel in Three Rivers. There will be no visitation on Easter Sunday. Funeral services will be 11 AM Monday, April 6, 2015 at the funeral home with Rev. Gary Carr officiating. Burial will follow in Marcellus Cemetery. Memorials may be directed to the American Heart Association. Condolences may be expressed to the family at www.efhchapel.com