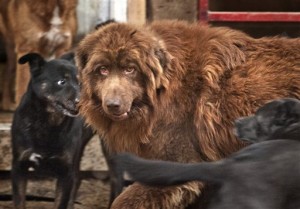 Shaggy the dog, who wandered the Grand Rapids area for months before his capture, is making strides at an animal rescue and rehab facility.
The Grand Rapids Press reports Shaggy, an 18-month-old Newfoundland mix, is among 13 other undomesticated dogs being taught to trust people at The Devoted Barn about 30 miles south of Detroit. The facility's owner, Melissa Borden, says Shaggy is a "gentle giant" who "really wants attention."
Shaggy was caught by Borden in March. Kent County animal control officers had taken extraordinary steps to try capturing Shaggy, including getting a net-shooting device. He was called Shaggy due to his rough appearance,
When Shaggy went to the shelter, he weighed 118 pounds, roughly 30 to 40 pounds underweight. But he was in good health.
Borden said Shaggy shows characteristics common in strays such as a fear of people and a reluctance to play. She said he's making progress.
"It didn't take too long for him to come out of his shell and realize we have good things for him, which is water and treats," Borden said.
Dogs at the facility have limited contact with outsiders to help build the dogs' trust in people. They're hand-fed human food before they make the switch to dog food, which they're not used to eating.
New dogs are petted 10 to 15 seconds at a time to become used to human touch. Once dogs are comfortable, Borden and volunteers will go into their kennels and snuggle with them. Borden fed Shaggy peanut butter with her fingers as she lay with her head on him.
"We do a lot of this — a lot of just laying here. He makes a great pillow," Borden said. "Right now, we're just going at his pace. We're not doing anything he can't handle."  (AP)