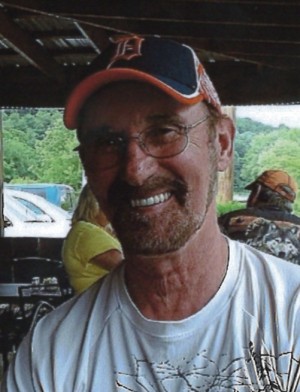 Thomas Lowell Kimble, age 64, of Three Rivers passed away on Thursday, April 23, 2015 at his home surrounded by his loving family. He was born in Three Rivers on June 2, 1950 the son of Russell H. and Pauline Emily (Freese) Kimble, Sr.
Tom was a lifetime resident of Three Rivers. He attended Three Rivers Schools and was employed for thirty eight years at Metal Technologies Company (formerly Dock Foundry) from where he eventually retired in 2013. He was also a member of Three Rivers Moose Lodge # 474 and of The Three Rivers Eagles # 2303 where he achieved the ranking of Golden Eagle. Thomas was a honorary member of Glass, Molders, Pottery, Plastics, and Allied Workers International Union. President for many years of GMP Local # 412 and ran RRR Pool League. He was an avid outdoorsman and in November of 2014 harvested a 15 point buck which was one of his proudest accomplishments.
Tom leaves to cherish his loving memory, wife Linda (Morris) Dickey-Kimble, whom he was united in marriage on August 23, 2014; sons, Thomas Russell (Shannon) Kimble of Three Rivers, Shannon David Kimble of Three Rivers, James (Karin) Morris, of Prescott, AZ., Shawn Wesley (Leah) Morris, of Sturgis, MI.; daughters, Penny Lisa Caruthers, of Sturgis, MI., and Taya Irene (Paul) Caruthers-Alexander, of Battle Creek; one brother, Russell H. Kimble Jr., of Marcellus; three sisters, Janis R. (Ronnie) Odom, Three Rivers, Helen Marie (Randy) Baker, of White Pigeon, and Lisa (Terry) Pier, of Williamston, MI.; eleven grandchildren, Brenden, Austin, Kristin, Christopher, Timothy, Tara, Shalynn, Candace, Wyatt, Kassandra and Cheyanne; three great-grandchildren, Chase, Jordan, Evangeline; sister-in-law, Kathy Stewart, of Wellsville, OH.; his loyal and loving chocolate lab, Kayla; many special nieces ,nephews, and cousins as well as a host of friends.
A celebration of Tom's life will be held on Saturday, May 2, 2015, 12:00 p.m. – 4:00 p.m. at the Three Rivers Eagles #2303 with Pastor John McClimans officiating. Family and friends are welcomed to stay into the evening at the Three Rivers Eagles.
In lieu of flowers, memorials may be donated to the Southern Care Hospice. Envelopes available at the Hohner Funeral Home in care of arrangements. Online condolences may be left at www.hohnerfh.com.