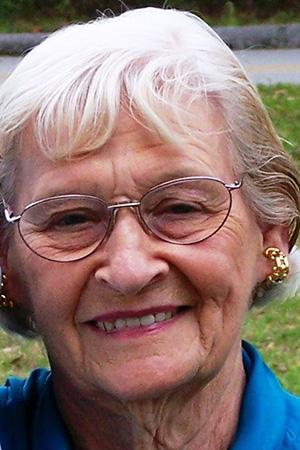 Anne Elizabeth Rice (nee Wray-McCann) died Monday, May 25, 2015 at Riverview Manor nursing home in Three Rivers after four years of declining health due to heart disease.
She was born to the late Dr. Hugh Wray-McCann and Anna Elizabeth Harvey on April 3, 1926 in Belfast, Northern Ireland, UK and grew up in Kilkeel, County Down, Northern Ireland, UK.
During part of WWII Anne worked in the Royal Ordnance Factory, Bridgend, Wales, UK where she performed tests of the chemistry of explosives.
She married Robert Alton Rice in Detroit on March 13, 1946, having met him in Kilkeel, NI, UK during World War II.
Anne worked many years for the Three Rivers Hospital and was active also for many years in the American Legion Ladies Auxiliary. Anne graduated with an Associates of Science Degree from Glen Oaks and was a valedictorian. She loved gardening and the study of history.
Anne and her late husband Bob loved to travel and after retirement spent 21 winters in the Ocala National Forest at Salt Springs, Fla. where they made many wonderful friends from all over the Eastern USA and Canada.
Anne is survived by three children, Peter Rice of Sarasota, Fla., Rosemary Rudd and Jonathan Rice of Three Rivers; two grandchildren, Christopher and Erin Rice; five step-grandchildren; and eight step-great-grandchildren. Also, she is survived by seven siblings. Peter Wray-McCann, Jacqueline Richards, Mary Myall and John Wray-McCann all in Australia, Frank and Carl Wray-McCann in the UK, and Pauline O'Callaghan in Mississauga, Canada. She is predeceased by her late husband Bob and three brothers, Charles of NI, UK, Hugh of Interlochen, and James Wray-McCann of Australia.
Per her wishes, cremation has taken place and at a later date her ashes will be interred at Fort Custer National Cemetery at the grave site of her late husband Bob, where a private service will be conducted. Memorials in lieu of flowers could go to the individual's local animal rescue or the Salvation Army, in her name. Arrangements were by Avink Funeral Home; their in memory of website page is: http://avinkcremation.com/book-of-memories/2156191/Rice-Annie/service-details.php.