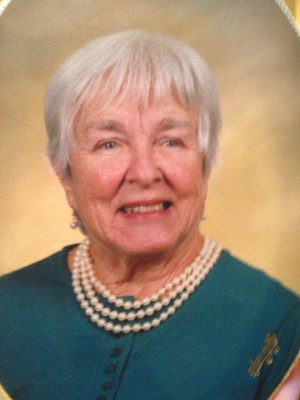 Arlean Victoria Ratering, age 92, of Three Rivers passed away peacefully on Sunday, May 3, 2015 at the Bowman Place where she resided for the past year. She was born on Nov. 6, 1922 in the Borough of Prospect Park, New Jersey the daughter of the late Charles and Margaret (VanBalen) Peraldo.
Mrs. Ratering grew up in the New Jersey area before making her home inThree Rivers from 1957 until moving to Lakeland, FL., in 1985. Arlean was a former member of the Immaculate Conception Church where she was very active with Daughters of Mary during the 1960's. In 2009 Arlean returned to Three Rivers to be closer to her children. She was an avid reader and enjoyed doing crafts while always keeping herself busy. She enjoyed spending time with family especially her grandchildren.
Arlean was preceded in death by her parents, her husband, William Henry Ratering, Sr. whom she married on Dec. 8th, 1943 and had 65 wonderful years with. Two sisters, Charlotte Ammerman and Margaret Ashton.
She leaves to cherish her loving memory, one daughter, Janice L. (Wayne) Schimnoski of Three Rivers, and her children, Timothy and Troy. Four sons, William "Bill" (Jodee) Ratering, Jr., and their children, Coree, Amber, and Nicholas. Son, Richard Ratering of Three Rivers. Son, Charles (Judie) Ratering, of Three Rivers, and their children, Meegan, Marsha, and Jason. Son, Anthony Ratering (Terri Skje), of Sturgis; sixteen great-grandchildren.
A Memorial Mass will be held at 11:00 a.m. on Saturday, May 9, 2015 at the Immaculate Conception Catholic Church of Three Rivers, celebrated by Father Stanley Witek.
Interment will be held in Riverside Cemetery.
Memorials may be donated to the Daughters of Mary or I.C. Help. Envelopes available at the Hohner Funeral Home in care of Arlean's arrangements. Online condolences may be left at www.hohnerfh.com