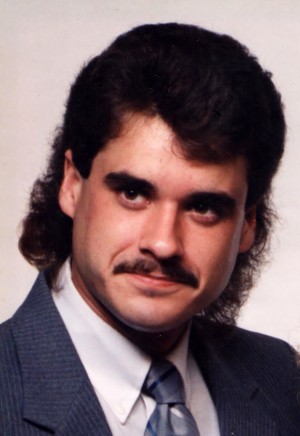 Len A. Yoder, age 49, of Mottville, passed away Saturday, May 9, 2015 at Three Rivers Health Hospital.   He was born July 28, 1965 in Elkhart, IN, a son of Ray and Mary (Schrock) Yoder. Len graduated from Northridge High School in Middlebury. After being together since 1985, Len married Beverly Stabler on May 27, 2000 in Mottville. Len worked for 18 years at Coachmen RV and was currently employed at RC Trailers Middlebury. He enjoyed NASCAR, race tracks and flying kites and rockets. He especially loved the river, camping and fishing with his grandchildren. Len will always be remembered for his willingness to help family and friends.
Surviving Len are his father Ray Yoder, wife Beverly Yoder, Mottville, stepsons Dan (Erica) Stabler, Matt (Jen) Stabler, both of Elkhart, grandchildren Taylor, Damon, Derek, Brice & Alena Stabler, sister Laurie (Tim) Mast, Eldorado, Ark, and several nieces and nephews. He was preceded in death by his mother.
Relatives and friends will be received Tuesday at the Eley Funeral Home in Constantine from 5-8 PM, where services will be held Wednesday at 2:00 PM. Pastor Bj Leichty and Pastor Randy Detweiler of Holdeman Mennonite Church, Wakarusa, IN will officiate. Interment will be in Mottville Township Cemetery. Condolences may be left for the family at www.eleyfuneralhomes.com.