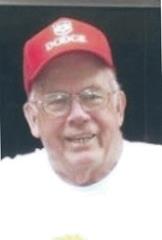 Paul Bryce Williams, age 84, of Three Rivers, passed away on Thursday, May 21,2015 at Borgess Medical Center following a lengthy illness. He was born on Oct. 12, 1930 in Granville, NY., the son of the late Joseph and Thelma (Roberts) Williams.
Paul spent the majority of his life in the Chicago, IL., area. Paul served his country in the U.S. Navy during the Korean Conflict before his honorable discharge. He was employed for over forty years as a sales engineer for G&W Electric Specialist before his retirement. On May 7, 1997 Paul lost his first wife Carmella (DeLucia) Williams, whom he married on Aug. 9, 1952. In that year Paul moved to the family cottage on Corey Lake where he met and married Kathleen (Hackenberg) Williams on Oct. 12th, 1998 where they shared many wonderful years together.
Paul loved to be outdoors either on his John Deere tractor or his golf cart working in the yard. He loved his Chicago Sports teams especially the Cubs and eating at Olive Garden restaurant. He and Kathy spent several years as hospice volunteers where Paul garnered many close friendships. He served on the Flowerfield Twp. Board and was a member of the Knights of Columbus.
Mr. Williams was preceded in death by his parents, first wife, Carmella, son-in-law, Joe Karr, grandson, Jonathan, and one brother, Wayne Williams.
He leaves to cherish his loving memory, wife, Kathleen (Hackenerg) Williams, of Marcellus; daughters, Pam Karr, of Chicago Ridge, IL., and Peggy (Chris) Neubeck, of Evergreen Park, IL.; son, Paul (Lisa) Williams, of Ludington, MI.; brother Neil (Gail) Williams, sister, Kathleen (Phil) Croff; six grandchildren, Joe, Jeff, Corey, Lauren, Alec, and Catherine; special dog, Shelby, and many nieces, nephews, and extended family.
The family will receive friends on Thursday, May 28, 2015 from 11:00 a.m. until time of funeral services beginning at 1:00 p.m. at the Hohner Funeral Home. Military Honors under the auspices of the American Legion Hice-Shutes Post #170 to follow.
Graveside services will be held at 11:00 a.m. (12:00 p.m. Eastern Time) on Friday, May 29, 2015 at St. Mary Cemetery, W. 87th & Hamlin Avenue, Evergreen Park, IL 60805.