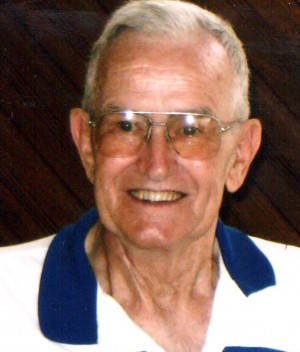 Robert Wayne Johnson, age 83, of Constantine, passed away Friday, May 28, 2015 at Borgess Medical Center. Wayne was born on December 2, 1931 in Constantine to Ralph and Nellie (Carnes) Johnson. He graduated from Constantine High School in 1950 and also attended Glen Oaks Community College. Wayne later went on to serve in the U.S. Army. He was previously married to Jeanette Maxwell, who preceded him in death in 1996. On January 10, 1998, Wayne married Loretta (Jackson) Furey in Three Rivers. He worked at Armstrong Int. for over 37 years. Wayne was a member of the Constantine American Legion, Sturgis VFW, Light & Life Wesleyan Church, and enjoyed playing in bowling leagues.
Wayne is survived by his wife Loretta Johnson of Constantine, step-daughter Marcia Post of Sturgis, daughter-in-law Sharon Furey of Three Rivers, daughter Marjorie Furey of Constantine, daughter Mary (Jim) Griswold of Constantine, sister Dorothy Ruggles of Three Rivers, brother Guy (Irma) Johnson of Constantine, sister-in-law Margaret Johnson of Three Rivers, and many nieces and nephews. He was preceded in death by his parents, wife Jeanette, brother James Johnson, brother-in-law Myrl Ruggles, brother Jack Johnson, brother Ralph Johnson, and step-sons Mike Furey, Rex Post, and Bob Setterberg.
Relatives and friends will be received on Sunday, May 31st from 2-5 pm at Eley Funeral Home, Constantine where Religious services will be held on Monday, June 1st at 11 am. Pastor Sam Maddox will officiate. Interment will follow at Calhoun Cemetery, Constantine. Memorial contributions may be made to Light and Life Wesleyan Church. Online messages may be left for the family at www.eleyfuneralhomes.com.