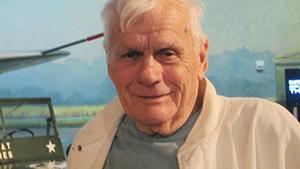 Charles "Jack" Allen Ruple, 83, of Donnell Lake, Vandalia, passed away on Monday, June 15, 2015 at his home surrounded by his loving family. He was born on Sept. 30, 1931 in Kalamazoo the son of the late Charles Kenneth and Mary M. (Ickes) Ruple.
Jack has been a resident of southwest Michigan his entire life. He honorably served his country in the U.S. Army as a Sergeant during the Korean War. After returning home, Jack began work with Indiana Michigan Power affiliated with American Electric Power as a lineman and retired in 1993 after 43 years of service. Jack was a member of the Donnell Lake Conservation Club, the Underground Railroad Society of Cass County and the Decatur V.F.W. Post 6248.
Jack was preceded in death by his parents; his first wife, Delores; one brother, James; and four sisters, Patricia, Trevalyn, Martha Louise and Dorothy.
He leaves to cherish his loving memory, wife, Kathy (Walker) Ruple, whom he married on May 26, 1990; step-children, Jeff (Tracey) Morse and Jessica (Jason) Struble; two sisters, Barbara (Tom) Vrhel, Carole (David) Tate; five grandchildren, Blake Struble, Nolan Mark, Riley Mark, Madi Morse, and Maddix Charles Morse; his very special dogs Buddy, Bella, and their cat Stella, and many nieces and nephews and friends.
Jack was very proud of his home, lawn, wife, step-children and grandchildren. He loved wood working and remodeling their home with Kathy. They were a team when it came to projects, they liked nothing better than doing a project side by side.
The family will have a celebration of Jack's life from 6-8 p.m. on Saturday, June 20 at the Donnell Lake Conservation Club in Vandalia with Military Honors conducted at 7 p.m. by the Decatur VFW Post 6248.
Memorial contributions may be donated to the American Cancer Society of Cass County, Hospice of Southwest Michigan, West Michigan Cancer Center or the family. Envelopes available at Jack's celebration or at the Hohner Funeral Home in care of arrangements. Online condolences may be left at www.hohnerfh.com.