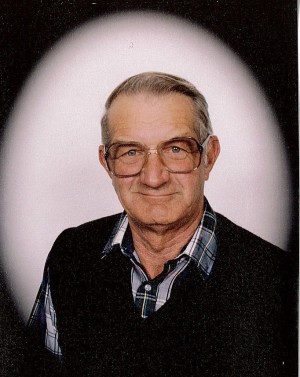 Raymond Chester "Chet" Bingaman, Jr., age 81, of Three Rivers, died Thursday, July 30, 2015 at his home. He was born on July 15, 1934 to Raymond Chester and Eleanor (Bohm) Bingaman, Sr. in Lockport Township. He spent summers on his Grandpa Bohm's farm near the Langley Covered Bridge in Centreville and worked at a fruit farm on Michigan Avenue near Three Rivers. He graduated as Valedictorian of the Three Rivers High School class of 1952. He is a graduate of the Michigan State Land Grant College, now Michigan State University in 1954. Chet served in the U.S. Army from 1956 to 1958. After college he was offered a desk job but hauling asphalt paid more, so he spent his summers driving an asphalt truck and hauled steel in the winters mostly to Chicago and St. Louis, MO. In 1972 Roy Nichols offered Chet a job as an estimator for Peter's Construction in Kalamazoo where he eventually became owner. Chet retired in 2002 after 49 years in the construction business.
Chet enjoyed snowmobiling in Northern Michigan and sailing. He was known for his green thumb and love of gardening. He was married to Jan Weiandt in 1955 and they were later divorced. In 1997 Chet met Joanne Becker and they were married in 1998. They spent their retirement years traveling the 48 states and Canada. They refurbished the blueberry patch on the old Fitch Farm on Wilbur Road and opened it for U-Pick as Bingaman Blueberries.
He is survived by his wife, Joanne Bingaman; 3 children, Jon K. (Lori) Bingaman, Julie McEnroe, Jim (Christine) Bingaman; step-son, Frank (Erica) Lynch; grandchildren, Kristen, Jeff, Mitchell, Jackie, and Haley; step-grandchildren, Ayden, Owen, Alicia, and Amelia; several great grandchildren; sister, Rose (Lyle) Mikel. He was preceded in death by his parents.
Visitation will be from 3 to 6 p.m. Sunday at the Eickhoff Farrand Halverson Chapel in Three Rivers. Funeral services will be 10 a.m. Monday Aug. 3, 2015 at the funeral home with Chaplain Karla Kauffman of Three Rivers Health Hospice officiating. Interment will be in Moorepark Cemetery. Donations may be directed to either The V Foundation, or to Three Rivers Relay for Life. Online condolences may be expressed to the family at www.efhchapel.com