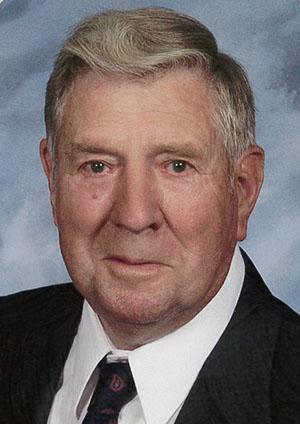 Darrel W. Coomer, 90, of Mendon, died Tuesday, July 21, 2015 at the Brookdale Senior Living Center in Port Charlotte, Fla. Darrel was born in Payne, Ohio on Nov. 18, 1924 the son of George and Mary (Nesbit) Coomer. He graduated from Payne High School and attended Bowling Green University in Ohio. Darrel was married to Marie Knoblauch on June 10, 1944, and they are the parents of two sons and three daughters.
Darrel owned and operated farms in Indiana, Ohio, and Michigan before moving to Mendon in 1955 He was a member and past chairman of St. Paul's Lutheran Church in Colon, and was a 4-H dairy leader in Mendon. Darrel and his wife travelled with the Western Square Dancers and friends across the United States, and to London, England. Darrel and Marie managed a growing farm around Mendon and Leonidas, staying involved in the community for over 50 years.
Darrel is survived by his wife of 71 years, Marie; three daughters, Janet (Jim Roe) Morey of Forest Lake, Minn., Elaine (Tom) Kistler of Northport, Fla. and Patricia (John) Murphy of Holland, Mich.; two sons, Roger (Debbie) Coomer of Malvern, Ark. and Rick (Carol) Coomer of Portage; 13 grandchildren, Mike (Rick Behr) Morey, Tim (Theresa) Morey, Jason (Michele) Coomer, Eric Coomer, Ryan Coomer, Jenny (Bob) Minor, Chad Kistler, Nathan Kistler, Toni (Jeremy) LaVigne, Tamara (Jeff) Piatt, Neil (Lisa) Murphy, Colleen Murphy and Treva (Clint) Tarkington; 10 great-grandchildren, Jordon, Savannah, Erin, Amanda, Jonathon, Nathan, Rachel, Alex, Hannah and Kole; one sister, Betty Doctor of Ft. Wayne, Ind.; and in-laws, Erwin (Marilyn) Knoblauch of Woodburn, Ind. and Norma Jacobs of Paulding, Ohio.
The family will receive friends from 2 to 5 p.m. Sunday at St. Paul's Lutheran Church, 484 S. Burr Oak St., Colon, MI 49040. Funeral services will be 11 a.m. Monday, July 27 at the church with Pastor David Grimm officiating. Burial will be in Mendon Cemetery. It is suggested that memorials be directed to either St. Paul's Lutheran Church, or to the Lupus Foundation of America. Online condolences may be expressed to the family at www.eickhofffuneralhome.com.