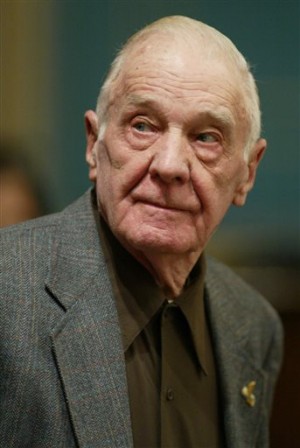 Former Michigan lawmaker Harry Gast, a straight-talking Republican who served for 32 years and led the state Senate's budget panel his final 18 years in the Capitol, died Thursday. He was 94.
The farmer from St. Joseph was respected for delivering budget news bluntly to legislators and telling them what they did not always want to hear. He served in the House from 1971-78 and in the Senate from 1979-2002, becoming the chamber's Appropriations Committee chairman in 1984.
"He was first and foremost a family man and a very proud farmer. Harry was a fixture in Lansing for over 30 years and was a true problem-solver," Gov. Rick Snyder, a Republican, said in a statement.
Praise also came from Attorney General Bill Schuette, who served with Gast in the Senate, and House Appropriations Committee Chairman Al Pscholka, a current southwest Michigan legislator.
"If they had a Mount Rushmore for public servants in Michigan, Senator Harry Gast would be on that mountain. Harry was a mentor to me, a legend with more than 57 years of public service and was someone who always told you exactly what he thought," Pscholka said in a statement.
Gast would have been barred by term limits from running for another Senate term, but decided to jump before he was pushed. He told The Associated Press in a 2002 interview that he tried to treat all legislators alike, regardless of party.
"I've attempted to treat people equally on the Appropriations Committee, Republican or Democrat, and I keep politics out of it, as much as you can," he said. "Honesty, punctuality and treating others as you would like to be treated is a big factor. That to me, if I've had any degree of success, is a main attribute."
Gast was among those former Gov. John Engler singled out during a sentimental ending to the governor's last State of the State address in 2002. Engler was not quite so pleased later when Gast initially opposed cuts Engler wanted to make to balance the budget.
Gast was characteristically blunt as he blistered fellow Republicans for failing to even consider freezing tax cuts.
The Starks & Menchinger Chapel said Gast died at his St. Joseph home. A funeral and burial will be held Monday.
He is survived by his wife of 72 years, Vera, three children, 10 grandchildren and two step-great-grandchildren.  (AP)