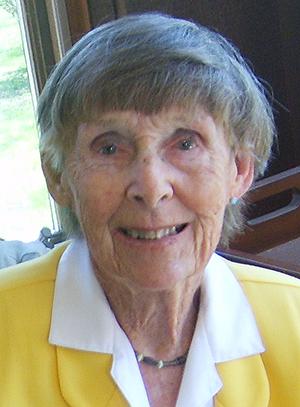 Harriet J. Davidson, 95, who spent most of her adult life in Port Huron, and more recently Green Valley, Ariz., died peacefully in her sleep on Monday, Aug. 3, 2015. Honoring her wishes, the family has held a private memorial service.
She was born on Sept. 17, 1919, to John and Alma (Strom) Johnson in Wahpeton, N.D., where she grew up embracing her Norwegian heritage. She attended the University of Michigan, where she was a member of the Alpha Chi Omega sorority and earned a B.A. in English in 1940. Her college boyfriend, Wilbur Davidson, enlisted in the U.S. Navy and was assigned to the U.S.S. Indianapolis at Pearl Harbor. Harriet moved to Hawaii, where she and Bill were married on July 29, 1941. While he was at sea, she experienced the attack on Pearl Harbor.
After WWII, Bill and Harriet settled in Port Huron. They had four children, Mark (Jane) Davidson, Laurel (Earl) Stahl, Margaret (David) Devendorf, and Matthew (Patty) Davidson, and they were blessed with 10 grandchildren and six great-grandchildren.
Harriet had a lifelong love of bird-watching, which she and Bill pursued together around the world. Harriet was at one time the official #1 female birder in North America. Harriet has over 825 North American birds on her life list and has identified all 17 worldwide species of penguins. Harriet authored books about her adventures in birding and published numerous articles in birding magazines. She created audio DVDs of her specialized birding adventures and over the past several years was active as a guest speaker in Green Valley.
Harriet was a Girl Scout leader who led both local and international troops to the Girl Scout Chalet in Switzerland. She traveled extensively around the world with family and friends, including time as a missionary aid worker in Cameroon, Africa.
She was an avid golfer and in fact played three times in the week before she died. Playing bridge and her weaving guilds were additional lifelong passions.
Harriet Davidson lived an amazing life to the fullest. Many of her extended family, who were at Lake Michigan for a family reunion with her, were able to spend time with her during her brief hospital stay. She could not have scripted this any better.
For those who wish to so honor her memory, her family suggests a donation to Doctors Without Borders or Habitat For Humanity.
Arrangements handled by Hohner Funeral Home.