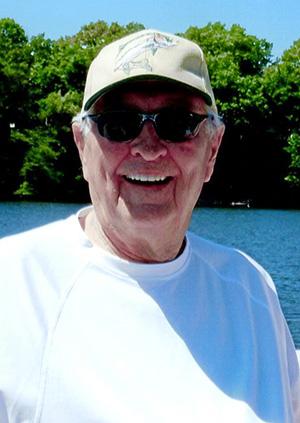 William Robert Witt, 80, of Three Rivers, passed away Friday, Aug. 7, 2015 at his home. William was born Nov. 6, 1934 in Mishawaka, Ind. to the late William Albert and Margaret Delphine (Hunter) Witt. On Nov. 17, 1984, he married Lorrie Carter in Constantine.
Surviving is his wife, Lorrie, of Three Rivers, and his children Kim (Cyndi) Witt of Marcellus, Sabrina (Brian) Six of Plymouth, Ind., Hoby Witt of Paulding, Ohio, and William Thomas Witt of Chicago, Ill. Also surviving is his half-brother, Jim Witt of Osceola, Ind.; six grandchildren; 10 great-grandchildren; and one great-great grandchild. He was preceded in death by his brother Roger Witt.
William joined the US Air Force in 1952, and served honorably until his discharge in 1956. He was the owner and operator of King Company vacuum cleaner sales in Three Rivers for more than 60 years, and also owned and operated King Sport Fishing Charters of Saugatuck for 22 years with his wife, Captain Lorrie. William enjoyed playing golf and was an avid fisherman. William also served as Past Master of the Mendon Masonic Lodge #137.
A celebration of William's life will be held at 1 p.m. on Friday, Aug. 21 at Messiah Lutheran Church, 185 West Fifth Street, Constantine. Elkhart Cremation Services is assisting with arrangements.
In his memory, donations may be made to Hospice of Southwest Michigan. To leave condolences for his family, please visit our website at www.elkhartcremation.com.