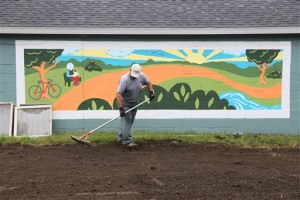 A former greenhouse property that's been redeveloped to provide a public gathering space for biking, running, walking and other purposes is set to open this week along the Kalamazoo River.
A grand opening ceremony for the Riverview Launch will be held Thursday. The event will feature food and drinks, live music, yard games and entertainment.
The Kalamazoo County Land Bank led a revitalization project, which was funded by a campaign that raised more than $1.9 million, to transform the six-acre property. The Riverview Launch includes office and meeting spaces, a greenhouse, native plant restoration, a historic barn and environmental features like rain gardens and a native "bee condo," the Kalamazoo Gazette reported.
"This project is proof that community involvement can turn vacant and blighted spaces into vibrant, beautiful places," Kelly Clarke, the land bank's executive director, said in a news release.
The Kalamazoo Water Festival, an event focusing on the importance of water and efforts to restore and protect it, will take place next Saturday on the site along the Kalamazoo River Valley Trail northeast of downtown.
"It has been five years since the last Kalamazoo Water Festival and we have a lot to celebrate," Stephen Hamilton of the Kalamazoo River Watershed Council said in a news release. "In that time we have seen an impressive effort to clean up the largest inland oil spill from the Kalamazoo River and over 13,000 cubic yards of PCB contaminated sediments removed from Portage Creek."
The festival is free and open to the public. It will feature comedic and bluegrass performances, educational opportunities and activities for kids.  (AP)