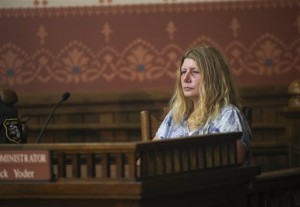 A White Pigeon man has been charged with the 2007 homicide of 11-year-old Jodi Parrack.
St. Joseph County Prosecutor John McDonough made the announcement during a press conference Thursday afternoon at the county courthouse.
He said the August arrest of 65-year-old Daniel Furlong resulted in the collection of DNA that matched DNA found at the Parrack crime scene.
Furlong following his August arrest was charged with unlawful imprisonment and felonious assault as the result of an incident with a 10-year-old neighbor girl July 28 inside the garage of his White Pigeon residence.
McDonough said Furlong had never been a person of interest in the Parrack case, but the circumstances in the White Pigeon incident prompted investigators to obtain his DNA.
According to McDonough, Furlong lived in Constantine at the time of Parrack's murder. McDonough said Furlong "distantly was known" to Parrack's family but he did not elaborate.
McDonough said investigators will attempt to determine if Furlong might be linked to other unsolved crimes involving children, primarily the 1997 disappearance of 6-year-old Brittney Beers in Sturgis.
Furlong was arraigned Thursday in St. Joseph County District Court. He entered pleas of not guilty to one count of open murder, one count of felony murder, one count of kidnapping and a count of second-degree criminal sexual conduct involving a child under the age of 13.