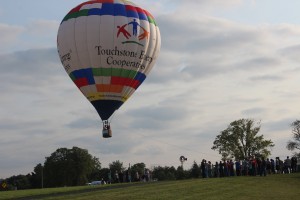 Picture-perfect weather created a great backdrop for the inaugural Midwest Propane Fueling the Fight Family Movie Night last Thursday. Hundreds of guests joined us under the stars at the Cass County Council on Aging for a variety of activities to raise money for the West Michigan Cancer Center.
Many guests gathered around a giant outdoor movie screen on blankets and lawn chairs to enjoy the feature presentation: the Disney/Pixar family favorite movie UP. The movie was free, and attendees were encouraged to make a donation. Additional funds were raised through tethered rides in the eight-story Touchstone Energy hot air balloon, raffle prizes and food prepared by local-favorite Smokin' Good BBQ. More than $4400 was raised through the Movie Night festivities.
"This was a very successful first-time event, and we're thrilled with the results," says Patty Nowlin, director of community relations. "We raised a lot of money to support a great organization, and provided a fun venue for families to come together and create wonderful memories."
In addition to the proceeds from the movie night, Midwest Propane also donates one penny for every gallon of gas delivered in August, the highest delivery month of the year. The total 2015 Midwest Propane Fueling the Fight donation to the West Michigan Cancer Center was $9000.
Midwest Propane is an unregulated subsidiary of Midwest Energy Cooperative. Midwest Energy Cooperative is a member-owned electric utility providing electric distribution and an assortment of energy-related programs and services to more than 35,000 customers in 11 counties in southern Michigan and northern Indiana and Ohio.