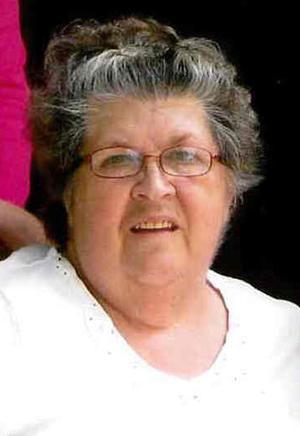 Mildred Faye Bass, 72, of Three Rivers, formerly of Niles, died peacefully Tuesday, Sept. 1, 2015 in her residence with her family by her side.
She was born Jan. 22, 1943 in Mozark, Ark., the daughter of Otto and Nancy (Brewer) McKee. She married Jerry Wayne Bass July 13, 1961 in Monette, Ark. He preceded her in death Jan. 19, 1999. She was also preceded in death by her parents; one daughter Mary A. Wilds; two sisters, Marie Newton, Phyllis McKee; three brothers, Billy John McKee, Afton John McKee and Alvie McKee.
Mildred's passion was her great-grandchildren. They helped keep her alive for the past 10 years. Mildred's biggest hobby was embroidery. Her favorite pastime was watching TV, especially the old westerns. Mildred was very involved with her church and C.O.A. Mildred will be remembered for having donated to the St. Jude Children's Research Hospital for 15 years in remembrance of her late husband. Her contributions alone were known for having saved two children.
Mildred will be greatly missed by family and friends. She is survived by one son, Michael Wayne Bass; her grandchildren: Debra Ann (Eric Odom) Wilds, Dustin Alan (Stephanie) Couch Sr; her great-grandchildren: Dezarae, Dustin Jr, Abigail, Philip Jr, and one on the way Alison Faye; her sister Mary Lou Eversoll; as well as several nieces, nephews, cousins and friends.
Family and friends will gather Saturday, Sept. 5 from 11 a.m. until 1 p.m. with the funeral at 1 p.m. in Connelly Chapel Wagner Family Funerals, 202 N. Broadway St., Cassopolis, with Pastor Kyle Foster officiating. Mrs. Bass will be laid to rest in Poe Cemetery, Jones, Michigan, following the funeral.
The family prefers memorial contributions be made in Mildred's name to: St Jude Children's Research Hospital, P.O. Box 1000, Dept 142, Memphis, Tennessee 38101-9908, https://shop.stjude.org.GiftCatalog/donation
Arrangements have been entrusted to Connelly Chapel Wagner Family Funerals, Cassopolis. Please share a memory or a message online: wagnercares.com.