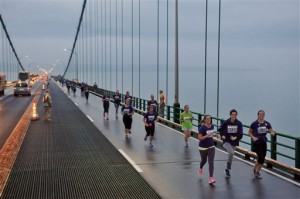 A gray sky and light rain didn't stop thousands of people from a Labor Day tradition Monday, the five-mile walk across the Mackinac Bridge led by Gov. Rick Snyder.
And the weather also didn't stop dozens more from taking a plunge in the Straits of Mackinac below the bridge as swimmers in wet suits and caps completed an inaugural 5.7-mile swim to benefit Habitat for Humanity.
Bob Sweeney of the Mackinac Bridge Authority estimated the number of walkers at 30,000, short of the 40,000 to 45,000 in 2012, a record year for the annual event.
"That is about the exact same number that we had in 2014 and also 2013," Sweeney said. "In both of those years they were forecasting rain — we didn't have any — but that resulted in some lower numbers."
Snyder, accompanied by Lt. Gov. Brian Calley, wore a "Pure Mackinac" T-shirt and a baseball cap at the head of the line. It was one of many events up and down the state to celebrate the holiday and unofficial end of summer.  (AP)