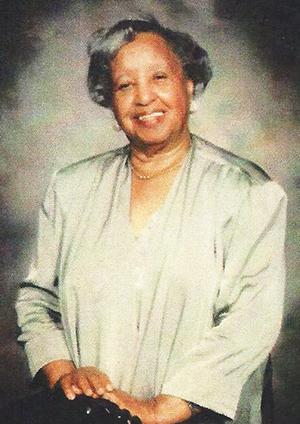 Phyllis Elaine Weston, 95, of Three Rivers, answered God's call and departed this life on Wednesday, Oct. 7, 2015. She was born on Dec. 5, 1919 in East St. Louis, Ill. to the late Fred and Marguerite Horne. She attended public school in East St. Louis. She had an early belief in Christianity and gave her life to Christ at an early age. Elaine, as she was lovingly called, was united in holy matrimony to Jimmie Williams in East St. Louis in 1938. To this union one son was born, James LeRoy Williams. In later life Elaine moved to Hartford, Conn. where she met and married Kenneth Weston who preceded her in death.
Elaine worked for Pratt and Whitney Industry for 10 years and later worked for Colts Firearms Industries until retirement in 1985. After retirement she wanted to be closer to her family and relocated to Chicago, Ill. She later moved to Three Rivers where she joined Grant Chapel AME Church. She served as an usher and faithfully took pride in serving her church. She wouldn't miss her Wednesday morning Bible study and loved Sunday school. Elaine was also a member of the Free Will Ladies Club where she enjoyed traveling, going to sewing classes, and playing Bingo. Most of all she enjoyed spending time with her family.
She leaves to cherish her love and memories, a loving and devoted son, LeRoy Williams and a loving daughter-in-law, Grace Williams of Chicago, Ill.; three wonderful grandchildren, Felecia Gettis of Hazelcrest, Ill., Phillip Williams (Deborah) of Bowie, Md. and Jennifer Williams of Indianapolis, Ind.; four great-grandchildren, Adams Gettis (Dionna) of New Jersey, LaDonna Gettis of Muncie, Ind., and Quincy and Spencer Williams of Bowie, Md.; one special sister-in-law, Lee Horne of Las Vegas, Nev. and a host of nieces, nephews, relatives and friends.
The family will receive friends from 10 a.m. until time of services beginning at 11 a.m. on Wednesday, Oct. 14 at Hohner Funeral Home with Rev. Pamela Williams officiating.
Online condolences may be left for the family at www.hohnerfh.com.