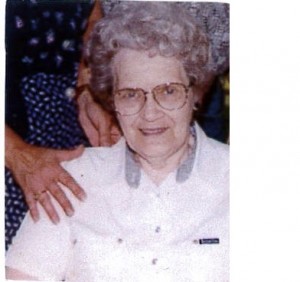 Madelon D. Bowen of Mendon, died Monday, Oct. 5, 2015 at Heartland Healthcare Center in Three Rivers just 20 days prior to her 95 birthday. She was born near Columbia City, Indiana the daughter of Clifton C. and Waneta E. (Grable) Hullinger and attended country schools in Whitley County, Indiana. She was married to Dean C. Bowen on Dec. 25, 1940 in Kosciosko County, Indiana. They resided in Quincy and Albion before settling near Mendon in 1952. Her husband, Dean died in 1959.
Madelon was a devoted wife and mother. She was resourceful, kind, loving, and joyful. She was energetic, and compassionate while visiting the sick in area nursing homes. Many will remember her singing as she worked and volunteered.
Madelon attended the Mendon United Methodist Church and was a member of the Grace Circle and taught Sunday School. She was a former member of the South Park Extension, the Farm Bureau, and the Mendon P.T.A. She also worked for 16 years as a Library Clerk at Mendon Public Schools and was a mother figure to many children.
Madelon is survived by five children, DeVon Bowen of Colorado Springs, CO, DeWayne Bowen of Mendon, DiAnne Riley of Three Rivers, DoNita Hayes of Battle Creek, and Dennis (Lorna) Bowen of Mendon; 18 grandchildren; 20 great grandchildren; brother, Kenneth Hullinger of Ft. Wayne; nieces and nephews. She was preceded in death by her parents; her husband, Dean; brother, Gerald Hullinger; two sisters, June Burritt and Evelyn Mosher; and grandson, Matt Hayes.
The family will receive friends from 4 to 7 p.m. on Thursday at the Eickhoff Funeral Home in Mendon. Funeral services will be 1 p.m. Friday, Oct. 9, 2015 at the Mendon United Methodist Church with Pastor Thoreau May officiating. Burial will be in South Park Cemetery. Memorial contributions may be directed to either the Mendon United Methodist Church, or to the Mendon Community Schools Foundation. Online condolences may be expressed to the family at www.eickhofffuneralhome.com.