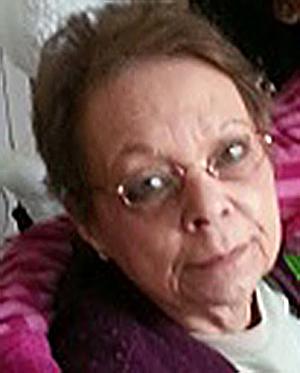 Marcella Kay McGlothlen, 68, of Centreville, passed away Thursday, Oct. 8, 2015 at the Fairview Nursing and Rehabilitation Community in Centreville.
She was born Feb. 3, 1947 in Sturgis, a daughter to the late Arthur and Kathleen (Randol) Wyatt.
Marcella has been a resident of St. Joseph County all of her life and was married to Raymond McGlothlen who preceded her in death.
She was employed as a house cleaner and really enjoyed her cleaning jobs, Wheel of Fortune, gardening, garage sales, her dog — Alley, and spending time with her family and grandchildren.
She was a member of the Kiwanis and the VFW Auxiliary.
Surviving are three daughters, Veronica Johnson of Plainwell, Linette Johnson of Sturgis and Hayley Thomas of Hillsdale; five grandchildren, Jessica, Zachariah, Lucas, Kristen and Melinda; five great-grandchildren; two brothers, Art (Suzanne) Wyatt of Elkhart, Ind. and Wayne Wyatt of Centreville; sister, Carolanne (C.J.) Wooster of Orland, Ind.; three stepchildren, Tim (Penny) McGlothlen of Union, Mark (Heather) McGlothlen of Three Rivers and Raeann Ross of Three Rivers; step-grandchildren, Timmy, Alexis, Hannah and Noah.
She was preceded in death by her parents; husband; brother, Floyd Wyatt; sister, Karen Drake.
According to her wishes, cremation has taken place. Friends may call from noon — 1 p.m. Tuesday at the Rosenberg Chapel of Hackman Family Funeral Homes, 807 E. Chicago Rd., Sturgis, MI 49091 where a Memorial Service celebrating the life of Marcella Kay McGlothlen will be held at 1 p.m., with the Rev. Calvin J. Kolzow Jr. of Trinity Lutheran Church, officiating.
Memorial donations may be directed to funeral home to help with expenses.