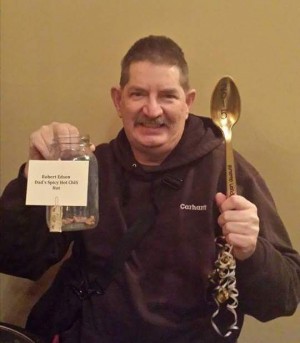 Robert Eugene Edson, age 56, of Jones, passed away peacefully surrounded by his loving family on Tuesday, Nov. 10, 2015 at his home. He was born on May 6, 1959 the son of the late Harold Thomas and Marian Elizabeth (Still) Edson.
Bob has been a long time resident of the Jones area. He loved riding his motorcycle, hunting, fishing, and loved to fix anything with two moving parts. Robert was very proud of ten plus years of service with the Cass County Mounted Division. He especially loved his dog, Aussie and his grand dog, Boo.
He was preceded in death by his parents, sister, Barb Schabes, one brother, Ray Edson, nephew Ray Jr., and one infant sister, Regina.
Bob leaves to cherish his memory, one daughter, Jami Edson and also his special friend "Potato Chip the Popple"; one sister, Linda Edson; six brothers, Dennis (Paula), Harold "Butch" (Patricia), Kenneth "Ike" (Terri), Rodney (Deniece), and Larry (Jane) Edson ; special girlfriend, Judy Nicholson, and several nieces and nephews.
The family will receive friends from 11:00 a.m. until time of services at 12:00 noon on Sunday, Nov. 14th, 2015 at the Hohner Funeral Home. Cremation will be conducted following services.
Memorials may be donated to the family of Robert Edson c/o Jami Edson. Envelopes available at Hohner Funeral Home in care of arrangements. Online condolences may be left at www.hohnerfh.com.