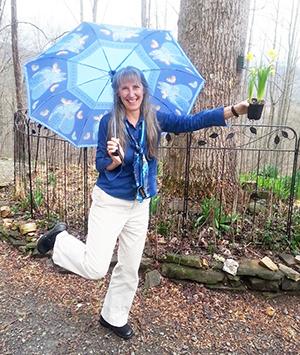 Susan Kay Ransbottom Witty, 54, humble servant of God, went to her heavenly Father's arms on Saturday, Oct. 31, 2015 while in the presence of her loving husband, Paul Witty.
Susie was born in Three Rivers. She was baptized and confirmed at First United Methodist Church in Three Rivers, and most recently, attended Webster and Cullowhee United Methodist Churches in North Carolina. An occupational therapist certified in hand and lymphedema care, Susie worked at Harris Regional hospital for 19 years. She traveled extensively across the globe doing medical mission work including New York after 9/11, Myanmar, Brazil, Haiti, Kenya and India. While serving in Haiti following the earthquake, Susie adapted a cup for a three-year-old child who had lost both of his arms allowing him to feed himself using his feet. The past three years, Susie volunteered at Mother Teresa's first leprosy center in India, Ghandhiji Prem Nivas Leprosy Center. There she made splints and arranged for the purchase of 50 wheelchairs, allowing disabled elderly residents the ability to leave the building for the first time in years.
Susie enjoyed playing the mountain dulcimer, kayaking, leather-working, woodworking, hiking, gardening, riding motorcycle, and loving on her cats and dogs. Susie realized "How little we need in life as long as we have faith."
Susie is survived by her husband, Paul Witty of Dillsboro, N.C.; father, Wilbur Ransbottom of Sheridan, Wyo.; brother, Wayne (Barb) Ransbottom of Dayton, Wyo.; sister, Cathy (Doug) Arney of Three Rivers; sister, Judy (Mark) Stallons of Owenton, Ky.; nieces, Amy (Ricky) Wallace and Katie Ransbottom; nephews, Brady Arney, Ryan Arney, Dustyn (Kelly) Arney, Jason (Vicky) Stallons, Benjamin (Samohya) Stallons; several great-nephews and great-nieces, and many dear friends and colleagues. She is preceded in death by her mother, Dorothy (Weinberg) Ransbottom.
Her desire to serve in life is extended into her wish to serve after her passing. In lieu of flowers, Susie wanted people to consider giving to the people of Ghandhiji Prem Nivas Leprosy Center (checks may be made to Cullowhee United Methodist Church, India in the memo line), or to the Susie Ransbottom Witty Scholarship Fund which was established in her honor for occupational therapy students at Southwestern Community College in Sylva, N.C. (checks made to SCC Foundation, 447 College Dr., Sylva, NC 28779, Memo: Susie Ransbottom-Witty Scholarship Fund.)
A Celebration of Susie's Life will be held on Dec. 19 at 10 a.m. at Cullowhee United Methodist Church, 416 Central Dr., Cullowhee, NC, 28723.