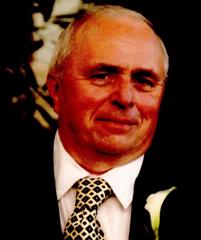 Theodore "Ted" Turner Howard, age 70, of Three Rivers, passed away on Friday, Nov. 20th, 2015 at home following a valiant fight with pancreatic cancer. Ted was born on Dec. 20th, 1944 the sixth child of Turner R. and Elsie L. (Flagg) Howard in Kalamazoo, MI. With his five siblings Ted was raised in Kalamazoo and lived all his life in the Kalamazoo area. He graduated from University High School in 1963.
Ted worked for Consumers Power Company and later for Upjohn Company (Pharmacia), first in the Instrument shop and then in Central Stores where he retired. In 1989, he married Karen Chapman and she brought a daughter Shelly to this union. Ted and Karen celebrated 26 years together on Oct. 15th, 2015.
Ted had many hobbies. He enjoyed his motor home and camping, his dune buggy and Silver Lake, fishing and being outdoors. He was Mr. Fix-It and could repair most anything. He enjoyed making friends, helping people and time spent with family and friends.
Mr. Howard was preceded in death by his parents, brother and sister-in-law, Quentin and Lois (Hoyt) Howard, niece Sheryl (Pike) Stiger and her husband Ron; nephew Bradley Midgett and brother-in-law, Clarence Vito.
Ted is survived by his wife Karen and their three children, Michael Howard of St. Paul, MN., Laura (Don) Scarborough, of Homerville, OH., and Shelly Eaton, of Schoolcraft, MI. Grandsons, Joshua (Denise) Scarborough, of Seneca, PA., D.J. Scarborough, of Lodi, OH., Justin and Jon Eaton, of Schoolcraft, MI.; four great-grandchildren, Casandra, Christian, Cheyne, and Callen Scarborough, of Seneca, PA. Also surviving are four sisters, Linda Leonard, of Kalamazoo, Beverly (John) Pike and Marcia Howard, of Portage, MI., and Ruth Ann (Arthur) Randall, of Lawton, MI. Many nieces and nephews and great nieces and nephews.
Memorial contributions may be donated to Hospice of Southwest Michigan or to the family c/o Karen Howard.
Per Ted's wishes cremation has taken place. A memorial service will be held at 11:00 a.m. at the Calvary Bible Church, 855 S. Drake Rd, Kalamazoo, MI 49009 on Nov. 28th, 2015 with visitation and hour prior to services.