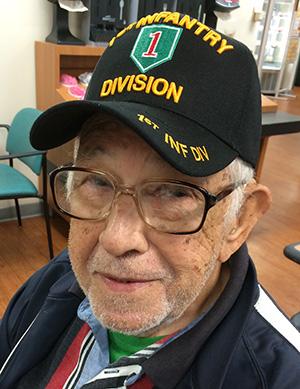 Oliver Wendell Roberts, 90, of Leander, Texas, passed away Monday, Dec. 21, 2015, surrounded by his loving family. A Celebration of Life service will be held at 11 a.m., Tuesday, Dec. 29, at Generations Church, 1461 Woodview Drive, Leander, TX 78641, under the direction of Pastor Bob Brydon. Interment with military honors will follow at 3 p.m. sharp in Central Texas State Veteran's Cemetery, 11463 TX-195, Killeen, TX 76542. Arrangements are under the care of Distinctive Life Cremations & Funerals of Austin.
Oliver, known best as Bob, was born Thursday, March 26, 1925 in Evart to Lincoln and Abigal Ruth (Odren) Roberts. Orphaned as a small child, Bob was raised by his Aunt Maude and Uncle Eben in Centreville. As a young man, he worked on a local farm where he loved hauling manure … just so he could drive the tractor, jump-starting a lifelong love of automotives. When Bob tried to enlist in the Army to defend his country during WWII, he had to first be released from the farm in able to join. Immediately after completing boot camp, Bob was assigned to the Big Red One Infantry as a heavy machine gunner, and sent to the German front. During the infamous Battle of the Bulge, he was captured by the Germans, and was a POW for the final six months of the war in Germany.
Once returning to his home in Michigan, he met the woman who would become the love of his life at a local roller skate rink. Her name was Beverly. After a brief courtship, Bob decided to buy Beverly a ring just prior to his leaving for college. Beverly showed her mother the ring, who asked when Bob would be leaving. Upon finding out his departure was in two weeks, Beverly's mother put together a hasty but meaningful wedding ceremony, and sent her girl off to be a wife, thus beginning their 58-year-long Love Story.
Bob had a long career in management for a mobile home manufacturing company, which led them on their many adventures across the United States. Over the course of their life together, they lived in a total of nine states, from one side of the country to the other, but Beverly would have followed Bob to the ends of the earth, no questions asked. One day, Bob decided it was time to stop chasing the career and focus more on family, so they all moved back to Michigan. While there, he worked for a local manufacturing company, and was the treasurer of the union as well, due to his love of working with numbers.
After Bob's retirement, the family moved to Florida to enjoy their Golden Years. Beverly spent the final years of her life battling Alzheimer's, and Bob was her devoted caregiver until the very end when she went to be with the Lord.
Later the next year, Bob was adopted by a little black dog named Jake, and they enjoyed the sunshine of Florida until Bob's eldest son kidnapped them for an "extended visit" in Texas, where he would live out the remainder of his amazing life, surrounded by his loving and supportive family. Bob was a proud member of Leander Methodist Church.
Bob was preceded in death by his beloved wife of 58 years, Beverly; his parents; and three sisters, Josephine Pridgeon, Cora Roberts and Ester Nagle.
Bob is survived by five children, Rickey Roberts and wife, Debra of Leander, Texas, Robert Roberts, Sr. and wife, Brenda of Leesville, La., Becky Merick and husband, Jeffrey of Paw Paw, Judy Roberts and husband, Jeffery Mohney of Three Rivers, Wendi Vazquez and husband, Juan of Leander, Texas; 12 grandchildren, Tina Lee and husband Craig of Leesville, La., Jeremiah Roberts of Austin, Texas, Keith Bondarevich of Three Rivers, Robert Roberts, Jr. of Leesville, La., Tyrel Bondarevich of Three Rivers, Benjamin Roberts and wife, Crystal, of Round Rock, Texas, Christopher Bondarevich of Three Rivers, Geoffrey Roberts of Austin, Texas, Katalina Vazquez of Constantine, Allison Babcock of Indianapolis, Ind., Kimberlee Vazquez of Centreville, Kassidy Vazquez of Leander, Texas, Stephanie Criswell and husband, Eric of Michigan, Kaitlynn Merick of Michigan, and Lindsey Merick of Michigan; eight great-grandsons and four great-granddaughters; Jake, the dog; as well as many other dear family members and friends.
The family would like to thank River City Hospice and Heart to Heart Hospice, as well as the Senior Helpers at The Oaks Gracious Retirement Living Facility, for their love, care and guidance. We appreciate you all.
In lieu of flowers, the family would like to suggest memorial donations be made in honor of Oliver "Bob" Roberts to perhaps one of the following: American Cancer Society, Heart to Heart Hospice, River City Hospice, Alzheimer's Association.