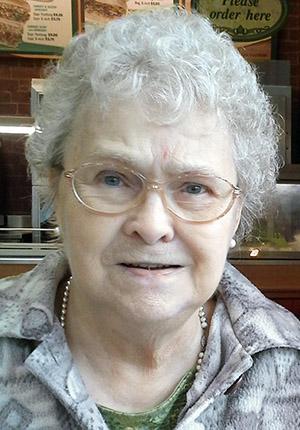 Jean A. Wright, 80, of Three Rivers, formerly of Elkhart, Ind., passed away Friday, Dec. 4, 2015 at Heartland Health Care Center in Three Rivers. She was born Sept. 12, 1935 in Corning, Ohio to Hershel A. and Edna Mae (Dodson) Wilder.
On Sept. 23, 1953 she married the late Rev. David Wright Sr.
Survivors include two sons, Ed (Sharon) Wright of Goshen, Ind. and Michael (Nancy) Wright of Cassopolis; one daughter, Dawn (Larry) Wright of Mishawaka, Ind.; two brothers, Arthur (Wilma) Wilder of Globe, Ariz. and Hurshel (Barbara) Wilder of Sturgis; two sisters, Marlene (Edwin) Cleveland of Kalamazoo and Edna Gemmel of Streetsboro, Ohio; 12 grandchildren and 21 great-grandchildren.
In addition to her parents and husband, she was preceded in death by one son, David Wright Jr.; one daughter, Debra Wright and one sister, Jane O'Dell.
Jean was married to David N. Wright for over 50 years. Together they started two churches, the most recent was in Mendon where they pastored until David's death. Jean was a loving wife, mother and homemaker. She devoted herself to her family and faithfully served those around her.
The family will receive friends on Wednesday, Dec. 9 from 6-8 p.m. at Billings Funeral Home, 812 Baldwin Street, Elkhart, Ind. Funeral services will be held on Thursday, Dec. 10 at 11 a.m. at Billings Funeral Home with visitation beginning one hour prior. Pastor Mike Wilson, Dan Schlabach and Eugene Troyer, elders will officiate. Inurnment will take place at Rice Cemetery at a later date.