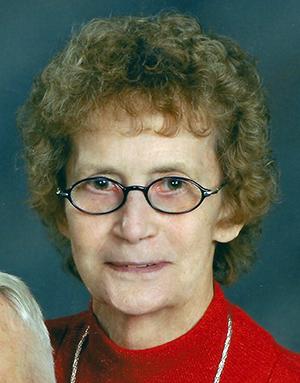 Joan M. Bussing, 74, of Three Rivers, died on Wednesday, Dec. 2, 2015 at Riverview Manor in Three Rivers following a short illness.
She was born on June 16, 1942 in Fremont the daughter of Robert and Irene (Schneider) Rumsey.
Three Rivers resident since 1990 coming from Devils Lake, Mich. She was a homemaker, member of the First United Methodist Church in Three Rivers. She enjoyed fishing, quilting and crocheting. She was involved in church activities and volunteer work.
Married to John W. Bussing on Jan. 21, 1977 in Spring Lake. He preceded her in death on June 4, 2006.
She is survived by two sons, Jeffrey S. (Linda Baird) Swor of Jerome and Richard D. Swor of Salinas, Calif.; two grandchildren; three stepchildren, Sharon Bussing, Rachelle Buehrle, Edward Bussing; step-grandchildren; half-sister, Penny Kozla; brother, Jerry (Janet) Rumsey. Preceded in death by her husband; parents; daughter, Camey Marie Stroven; son, Joseph M. Swor; brother, Jack Rumsey.
Visitation will be held 10 a.m. — 1 p.m. on Monday, Dec. 7 at the Eickhoff, Farrand, Halverson Chapel in Three Rivers where services wil be held at 1 p.m. with Rev. James W. Stilwell, pastor of the First United Methodist Church, officiating. Cremation will follow services.
Donations may be directed to Riverview Manor, Three Rivers Hospice or the First United Methodist Church.