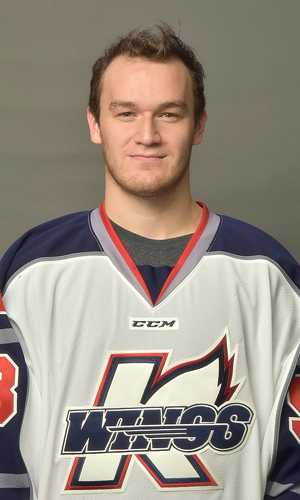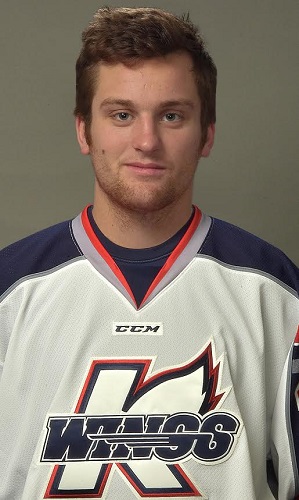 WHEELING, WV – Rebounding from a 5-2 loss to the Fort Wayne Komets on Saturday night, the Kalamazoo Wings (11-16-2-1) defeated the Wheeling Nailers (14-12-1-2) by a score of 7-4 on Sunday evening.
The two weekend games were the first for the K-Wings since last Saturday night as they had a week off between games for Christmas. Many players were able to return home for the holiday.
Six K-Wings players scored, with the team being led by Tanner Sorenson who had two goals and an assist and Dane Fox who had one goal and three assits. Joel Martin made 35 saves in the victory.
Taking the lead midway into the opening period, Sorenson struck for his seventh goal of the season.
Alex Mallet scored a shorthanded goal in the opening minutes of the second period to give the K-Wings a 2-0 lead.
Finding their way on to the scoreboard just over a minute later, Cody Wydo scored for the Nailers to cut the K-Wings lead in half.
Reeling off four goals later in the second period, three of those in just 1:31, the K-WIngs took a 6-1 lead after the first 40 minutes.
Lane Scheidl scored his fifth of the season pushing a loose puck into the net to give the K-Wings a 3-2 lead.
Just 33 seconds later, Justin Taylor scored his eighth of the year knocking in the puck after a Scheidl shot.
Sorenson scored his second of the night just 58 seconds after the Taylor goal, pushing in a Cory Pritz rebound.
Kalamazoo capped off a five-goal second period with terrific passing in the attacking zone late in the period. Kattelus, Sorenson and Adam Phillips connected on a tic-tac-toe play that left Phillips with a wide open goal at the backdoor. Phillips snapped a wrister and buried his sixth of the season to give Kalamazoo a 6-1 lead.
Showing no signs of letting up, the Nailers struck for three goals in the final period to cut the K-Wings lead to 6-4 before Dane Fox scored an empty net goal late in the period to cap off the night and secure the victory.
Notes: Kalamazoo scored a season-high seven goals. Tanner Sorenson had a career-high three points. Kalamazoo is 2-0-0-0 against Wheeling on the season at WesBanco Arena. Fox had four points. Seven Wings had multi-point games.
The Kalamazoo Wings will return home to host their annual New Year's Eve game at Wings Event Center on Thursday, December 31, as they entertain the Elmira Jackals with a special 6:00 p.m. start time.
By: Mark C. McGlothlen