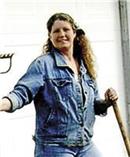 Kathleen Louise Stiles, 50, of White Pigeon, and formerly of Sturgis, passed awway Wednesday, Dec. 16, 2015, at her mother's home in White Pigeon, following a six-month illness.
She was born Dec. 13, 1965, in Three Rivers, a daughter of Richard C. and Wanna L. (Keller) Heitkamp.
She was a graduate of White Pigeon High School and Glen Oaks Community College. She was owner and operator of Blumon Gardens in Sturgis for 10 years. She was a member of Sturgis Area Chamber of Commerce.
She is survived by a daughter, Nicole Slocum of Constantine; two sons, Timothy McGlothlin of Union and Anthony Winnicki of Constantine; two grandchildren; her mother, Wanna L. Heitcamp of White Pigeon; two sisters, Georgeanne (Brian) Vaughn of Howe, Ind., and Glendora Lewis of White Pigeon; two brothers, Richard (Claudia) Lewis of Constantine and Gary Lewis of Mottville; and several nieces and nephews.
She was preceded in death by her father; and two sisters, Roxanna Groves and Gwendolyn Tavernier.
Visitation will be held 1-3 p.m. and 5-7 p.m. Friday at Farrand Funeral Home in White Pigeon. Services will be held at 11 a.m. Saturday, Dec. 19, 2015, at the funeral home, with the Rev. Terry Neumayer of Trinity Missionary Church in Constantine officiating.
Interment will take place in White Pigeon Township Cemetery.
Donations may be directed to the family for a cause to be determined.