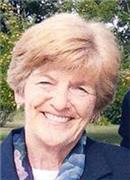 Margaret L. Randall, 78, of White Pigeon, passed away Thursday, Dec. 17, 2015, at Fairview Nursing and Rehabilitation Community in Centreville, following an extended illness.
She was born Oct. 12, 1937, in Springport, a daughter of Marion and Louise (Ott) Leonard.
She had been a resident of White Pigeon since 1966, coming from Roscommon. She was a full-time mother and homemaker. She was employed at White Pigeon Community Schools.
She was a Girl Scouts and Brownie leader, avid bowler in Roscommon and member of White Pigeon Women's Bowling League for more than 50 years. She served on the White Pigeon Village Council 1983-1995, and the White Pigeon sanitary sewer board. She loved making afghans for library raffles and mittens for elementary students. She was one of the founders of the White Pigeon Days celebration and White Pigeon Day parade. She was honored in 2001 as White Pigeon Citizen of the year.
On June 30, 1956, she married Dale A. Randall in Springport. He survives, along with a daughter, Dianne F. (Wayne) Snow of Sturgis; two granddaughters, Crystal and Ashley Snow of Sturgis; a sister, Mary Lou Ellis of Pensacola, Fla.; two brothers, Patrick Leonard of Springport and Ray Leonard of Battle Creek; and several nieces, nephews and cousins.
She was preceded in death by her parents; a daughter, Julie L. Maystead; and a brother, Danny.
Visitation will be held 2-4 p.m. and 6-8 p.m. today at Farrand Funeral Home in White Pigeon. Services will take place at 11 a.m. Wednesday, Dec. 23, 2015, at the funeral home. Interment will take place in White Pigeon Township Cemetery.
Donations may be directed to White Pigeon Township Library.