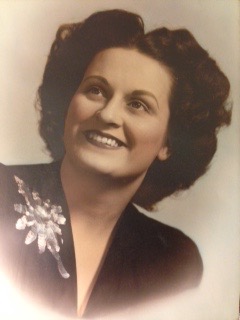 Agnes V. Blough, 90, of Middlebury, passed away Tuesday, January 12, 2016 at her home. She was born in Constantine on June 16, 1925, daughter of Leslie and Delia (Harvey) Chrisman. She graduated from Constantine High School. On June 14, 1947, she married Ernest Devon Blough in Constantine. He preceded her in death May 29, 2000. Agnes formerly worked at Parker Truck Stop, White Pigeon, A & P Grocery, Constantine, and at Harding's Market, Middlebury. She was a lifetime member of the Constantine Messiah Lutheran Church belonging to the Women's Group and teaching Sunday school. Agnes enjoyed crocheting baby booties and afghans, sewing, and making rugs.
Surviving Agnes are her children Jeff (Joetta) Blough, Stone Lake, IN and Vicky Blough, North Liberty, IN, grandchildren Joshua, Jonahs, and Josaliegh Blough, great-grandchild Jade Mychael Shook, brother Richard Chrisman, sister Wanda VanDerMoere, and several nieces and nephews. She was preceded in death by her parents, husband, grandchild Jocelynn Blough, sisters Shirley Chrisman, Mary Chrisman, and Pauline Hershberger, and brothers Harry and Orley Chrisman.
Relatives and friends will be received Friday, January 15 at Eley Funeral Home, Constantine from 3-7PM. An additional hour of visitation will take place Saturday, January 16 at Constantine Messiah Lutheran Church from 10-11AM with Religious services at 11:00AM. Interment will occur in Grace Lawn Cemetery, Middlebury at 2:00PM. The family requests everyone to wear red on Saturday to celebrate Agnes' life. Memorial contributions may be made to Messiah Lutheran Church.  Online messages may be left for the family at www.eleyfuneralhomes.com.