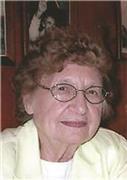 Angeline "Angie" (Rorris) Fudge, age 93, of Klinger Lake, Sturgis, Mich., passed away Saturday afternoon, Jan. 23, 2016, at Thurston Woods Village in Sturgis.
She was born Feb. 5, 1922, in Cedar Lake, Ill., near Chicago, daughter of the late Charles and Asemena (Skufakiss) Rorris.
On June 4, 1949, she married Warren J. Fudge in Hammond, Ind.
Mrs. Fudge was a graduate of Hammond High School in Hammond, Ind. She continued her education at Ball State University in Muncie, Ind., where she received her BS degree in 1947 and MA degree in 1952.
She began her teaching career in 1947 at Griffith Schools in Griffith, Ind. In 1949, she accepted a teaching position at Mendon Community Schools in Mendon where she taught until 1953. Mrs. Fudge took a break from teaching in 1953 to raise her family. In 1965 she returned to the class room at Centreville Community Schools where she taught until her retirement in 1986.
Mrs. Fudge was always active in professional and community activities. Some of her professional achievements and involvements included being named Centreville's Teacher of the Year in 1984-85, named Honorary Chapter Farmer by the Centreville FFA in 1984, served on many Committees of the teacher organizations, member of the Delta Kappa Gamma Educational Sorority and active volunteer at the Nottawa Stone School.
She was a member of the St. Demetrios Greek Orthodox Church and Affiliate member of the First United Methodist Church of Sturgis. She also held memberships in the Sturgis Woman's Club, Sturgis Garden Club, Sturgis and St. Joseph County Historical Societies, Klinger Lake Country Club and the Swartz-VanFleet Post #138 American Legion Auxiliary.
Mrs. Fudge enjoyed spending time with family and friends, reading and discussions at Book Club, playing bridge, eating out with friends, the sunshine in Florida in the winter, residing at Klinger Lake and volunteering.
She is survived by her loving and dedicated husband of 66 years: Warren; two sons: Michael D. Fudge of Novi and Thomas (Cathy) Fudge of Klinger Lake, Sturgis; two grandsons: Brandon Fudge and Dustin Fudge both of Novi; one sister: Beatrice Paravantes of Munster, Indiana; one niece: Georgia Buckmaster of Muncie, Indiana; one nephew: Peter Mentis of Tampa, Florida.
She was preceded in death by her parents; one sister; Meta Mentis and one niece: Nancy Callengas.
There will be no visitation. A graveside service and burial will take place at 2 p.m. Tuesday at the Oak Lawn Cemetery in Sturgis. Pastor Robert Keim will officiate.
The Rosenberg Chapel of Hackman Family Funeral Homes, 807 E. Chicago Rd., Sturgis, MI 49091, 269-651-3284 is entrusted with the arrangements.
The family suggests those wishing to make a memorial donation in Mrs. Fudge's memory consider Thurston Woods Village, 307 N. Franks Ave., Sturgis, MI 49091.
The obituary is also at www.hackmanfamilyfuneralhomes.com where personal messages of support may be left for the family.