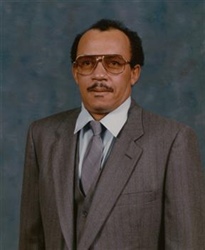 Mr. Rochester "Chet" Brown Sr., age 70, of Three Rivers, went to be with his Lord and Savior Jesus Christ on Monday, January 25, 2016. Chet was born April 26, 1945 in New Orleans, LA., from the union of Velma and Louis Brown Sr.
Chet moved to Michigan in 1959. He was employed by General Motors Corporation for forty years in various managerial positions. Chet was well known for helping anyone in the community who needed help. He was very instrumental in getting things done at Bethel Baptist Church, for any family member or friend in need. Chet enjoyed having family cook-outs in which the whole community was welcome.
Chet was preceded in death by his parents, one daughter Alisa Marie Evans, in 2007, one sister, Dorothy Brown Brumfield.
Chet leaves to cherish his memory, the love of his life for 52 years, Mae Ruth (Martin) Brown, seven children, Ricky A. (Annett) Brown, of Colorado Springs, CO., Gary Brown, of Three Rivers, Rochester "Chet" (Anna) Brown Jr., Douglasville, GA., Dale McCauley, of Union City, TN.; Anita M. (Brian) Green, Regina (Mike) Mains and Sherry (Rick) Goodacre, all of Three Rivers; forty grandchildren and ten great-grandchildren; four brothers, Louis (Savannah) Brown, Calvin (Patricia) Brown, Bobby (Ella) Brown, and Elliott West, as well as a god brother, Maurice Calahan. Many special friends and a special uncle Richard Dawson Jr.
Visitation will be held from 11:00 a.m. until time of service at 12:00 noon on Friday, January 29, 2016 at the Bethel Baptist Church ; 17852 S. River Rd; Three Rivers, MI 49093 with Pastor Terry L Cropper Jr.
Interment will be held in Riverside Cemetery. Memorial donations may be donated to Bethel Baptist Church. Arrangements by Hohner Funeral Home. Online condolences may be left at www.hohnerfh.com.