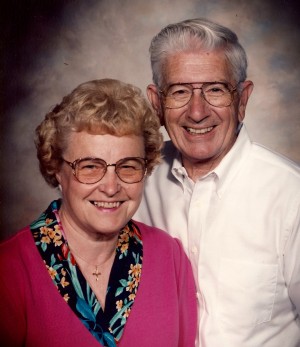 Doris L. Herline, age 91, of Three Rivers passed away peacefully on Friday, January 15, 2016, with her loving son at her bedside. Doris was born in Three Rivers on July 16, 1924, the daughter of Harvey and Ruth (Timm) Geark. She graduated from Three Rivers High School and on July 21, 1944, married Gordon Herline in Millbourne, PA, as he was ready to ship out with the Navy in the Pacific Theater during World War II. They later moved to Muskegon where they worked and raised their son, Gary, for the next 40 years.  Doris lived in Atria Park Assisted Living in Ann Arbor in the last year, near her family.
Doris worked in Quality Control at the Muskegon Piston Ring and was elected Secretary of the Union, Local 480, and UAW for many years.  She was a leader in the volunteer activities the Local did for its members and community.
Doris and Gordon retired in Three Rivers, where Doris was an active member, past President and Golden Eagle of the Eagles Women's Auxiliary # 2303 and Chairwoman of the Bingo committee.  She volunteered in several areas of Three Rivers Hospital. She will be missed for her many contributions to the Three Rivers community.
She loved being with her three granddaughters and watching them grow into young women. She loved gardening, developing and hosting family events at their lake property, "Herline's Hideaway", playing Bingo with her niece Sandy, "occasional" visits to the casino, and her travels to Hawaii and Cancun
Doris was preceded in death by her parents, her husband Gordon, her sister Frances, and brothers Harold and Ruben.  She is survived by her son Gary, his wife Lois, granddaughters Shannon, Whitney and Chelsea ("I couldn't love any of you more than I do"), very special niece Sandy Timm, sisters-in-law Dixie Davis and Patricia (Richard) Blanchette of Muskegon, and many other nieces and nephews.
Visitation and a light luncheon will be held from 11:00 a.m. until time of funeral services beginning at 1:00 p.m. on Friday, January 22, 2015 at the Hohner Funeral Home, with Pastor Jim Dyke officiating.
Interment will take place at Prairie River Cemetery.
Memorial donations may be directed to Eagles Auxiliary #2303 Charities with envelopes available at Hohner Funeral Hom