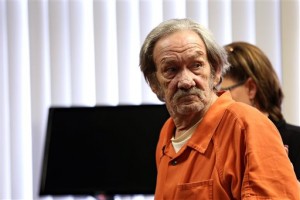 A 75-year-old man accused of fatally shooting his ex-wife at their western Michigan home has pleaded no contest to second-degree murder and felony firearm use.
Jimmy L. Thrasher entered his plea Tuesday in Kalamazoo County Circuit Court. His attorney told the judge that Thrasher decided to plead no contest since he's unable to recall the events that led to the death of his ex-wife, 74-year-old Grace Thrasher, at their Texas Township home on May 4 because he was intoxicated at the time.
A no contest plea isn't an admission of guilt but is treated as such during sentencing.
The Kalamazoo Gazette reports Thrasher told investigators that he and his ex-wife tussled over a shotgun and it accidentally went off.
Thrasher is scheduled for sentencing Feb. 16.  (AP)