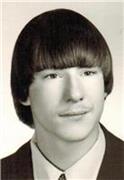 Richard A. Lewis, 60, of Mottville Township, Constantine, passed away Thursday, Jan. 28, 2016, at his home.
He was born Oct. 21, 1955, in Three Rivers, a son of Richard E. and Wanna L. (Keller) Lewis. He was a resident of the Mottville area for the past 15 years, coming from Stone Lake.
He was a graduate of White Pigeon High School and trade school for heating and air conditioning. He was employed by Prior Heating in Three Rivers, Crystal Valley and Four Winds Casino.
He enjoyed cooking, grilling, fishing, boating on the river and his motorcycle.
On Dec. 7, 2007, he married Claudia E. Battishill in Centreville. She survives, along with his son, Kyle Lewis; his mother, Wanna L. Heitkamp; two sisters, Georgeanne (Brian) Vaughn and Glendora Lewis; a brother, Gary Lewis; and several nieces and nephews.
He was preceded in death by his father; his stepfather; and three sisters, Roxanna Groves, Gwendolyn Tavernier and Kathleen Stiles.
Visitation will be 1-3 p.m. Tuesday, Feb. 2, at Farrand Funeral Home in White Pigeon. Services will be held at 3 p.m. Tuesday at the funeral home, with Pastor Terry Neumayer of Trinity Missionary Church officiating.
Donations may be directed to the family.