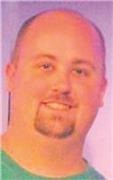 Anson Jeffrey Lehman, age 31, of Burr Oak, passed away unexpectedly Sunday evening, Feb. 7, 2016, at the home of his brother in Three Rivers.
He was born May 23, 1984, in Kalamazoo, a son of Jeffrey Owen and Terri Lu (Walker) Lehman.
Anson resided most of his life in White Pigeon and was a graduate of White Pigeon High School with the class of 2003. He had been living in Burr Oak since May 2015.
On June 3, 2006, he married the girl he knew since the second grade and his high school sweetheart, Kristen Baker, at Trinity Missionary Church in Constantine.
Anson was currently employed by L&W Engineering in Middlebury, Ind., and he also had worked for Quadra Manufacturing in White Pigeon.
He was a member of Whole Life Christian Fellowship Church in Sturgis. Anson enjoyed playing video games with his brothers. He was a talented poetry and short-tory writer and a fan of "Star Trek," "Star Wars" and Superman. It was not uncommon to see Anson wearing Superman shirts and other clothing. Anson had hobbies and enjoyments, but what he truly loved and cherished in his life was his entire family, especially his loving wife and incredible children.
He is survived by his loving and dedicated wife, Kristen; two sons, Jaxon Wade Lehman, age 3, and Oliver Bennett Lehman, age 5 months; his mother and stepfather, Terri and Mark Hurley of White Pigeon; his father and stepmother, Jeffrey and Nicole Lehman of Jonesboro, Ark.; five brothers, Nathan (Jackie) Lehman of Three Rivers, Wesley Lehman of Sturgis, Adam (April) Hurley of Constantine, Jordan Hurley of White Pigeon and Dain Hurley of New York, N.Y.; a sister, Brooke (Steve) Haas of Fort Myers, Fla.; grandparents William Walker of Kalamazoo and Eugene and Dorothy Lehman of Sturgis; and countless others who truly loved him.
The family will receive friends from 5-8 p.m. Thursday at the Hackman Chapel of Hackman Family Funeral Homes, 114 S. Nottawa St., Sturgis, and from 10-11 a.m. Friday at Whole Life Christian Fellowship Church, 1420 E. Chicago Road, Sturgis. Funeral services celebrating the life of Anson Jeffrey Lehman will begin at 11 a.m. Friday at the church. The Rev. Charles Vizthum will officiate. A graveside committal will follow the service at Oak Lawn Cemetery in Sturgis.
Memorial donations to the family would be appreciated to help with expenses and the future needs of the children, c/o Terri Hurley, 69949 Big Hill Road, Sturgis, MI 49091.
His obituary is also at
www.hackmanfamilyfuneralhomes.com
, where personal messages of support may be left for the family.