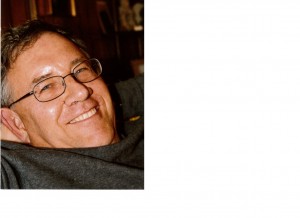 William "Bill" Michael Heflin, 66, of Mendon, died peacefully at his home on Tuesday, Feb. 23, 2016 after a long illness caused by his exposure to Agent Orange while serving in Viet Nam. Cremation has taken place. Bill was born May 15, 1949 in Kalamazoo the sixth child born to Frank and Margaret (Maturen) Heflin. Bill's family was a group of strong individuals who valued each other and education. Bill attended Catholic schools all his life and graduated from Hackett High School in 1969. Bill worked with harness horses in high school and continued doing so until he was drafted into the Army in 1969. Bill had never been a strong student and struggled with dyslexia. He never planned to go to college and thought maybe he would get training as a plumber (that would not have gone well!!!). While in the Army he started reading each and every book he could get his hands on. He began to think that maybe he would attend college and pursue social work.
Bill enrolled in Glen Oaks Community College at Centreville upon his discharge. It was at Glen Oaks that he met Bonnie Mathews, and whom he married on Sep. 30, 1972. Bill returned to training horses while attending college and during his lifetime. Harness racing was in his blood and he never lost his passion for the sport. Bill realized early in his college career that social work was not what he was called to be. Teaching became his goal for two reasons: one, he really loved interacting with kids and he thought with his own difficult educational experiences, he could help children want to learn; and secondly, he could have summers off to race harness horses at the county fairs.
Bill juggled a full time job and helped to raise two sons while attending college classes part-time for many years. He first finished with an Associates of Science Degree at Glen Oaks, and then a Bachelors and Masters Degree of Education from Western Michigan University. Bill was a substitute teacher for three years before getting his first teaching job at Holy Angels Catholic School in Sturgis. He taught at Holy Angels for three years before coming to Mendon Community Schools. Bill taught fourth through first grades, and retired from Mendon in 2011 while teaching the third grade.
Bill's booming voice could be heard throughout the hallways of Mendon Elementary School. Often singing loudly, off key, and with improvised lyrics. His class room was organized chaos but he loved teaching. No student will forget having to leave a shoe in front of Mr. Heflin's desk when they needed to borrow a pencil! Bill was also active in the teacher's union and spent many years negotiating contracts which suited his competitive spirit. He tried to get the best for the teachers, but his main concern was always what would be most beneficial for the students.
Bill's faith was an important part of his life. Bill was an active member of St. Edward Catholic Church in Mendon for over 35 years, serving as a religious education instructor, reader, and Eucharistic Minister. Bonnie and Bill were active in the Worldwide Marriage Encounter movement for seven years; an experience that greatly enhanced their lives with many good friends. Bill was always his own person. He accepted people as they were and expected the same in return. Bill never apologized for who he was.
Bill leaves behind his wife, Bonnie; son Joseph and his wife, Jill and their daughters, Annika, Aili, and Julia of Calument, MI; his son Peter and his son, Sam of Mendon; siblings, Marybeth and Joe Boyle of Cottage Grove, MN and their families; Renae Heflin (Jim) of Edwardsburg, MI and their families; Theresaleen (Terry), Walt, and Duane Janzczewski of Kalamazoo, Bob, Barb and Patrick Heflin of Williamsburg, MI, David and Carol Heflin of Portage, MI and their families, Kathy (Tom) and Jack Penterghast of Kalamazoo, MI and their families; many nieces and nephews and other extended family; Bill's church family; and many good and faithful friends from all aspects of his life. Bill was preceded in death by his parents, Margaret and Frank; two brothers, Tom and Jim; special brother in law, Dick O'Dell, all of whom he carried in his heart, and many other relatives and friends.
It is suggested that memorials be directed to either, St. Edward Altar Society, P.O. Box 368, Mendon, MI 49072, to the Mendon Elementary Library, 306 Lane Ave., Mendon, MI 49072, or to Hospice Care of Southwest Michigan, 222 N. Kalamazoo Mall, Suite 100, Kalamazoo, MI 49007-3882 who gave Bill kind care and comfort in his last days.
Visitation will be from 2:00 to 4:00 PM and from 6:00 to 8:00 PM Friday Feb. 26, 2016 at the Eickhoff Funeral Home in Mendon, and where a Scripture Service will be held at 7:00 PM. The memorial mass will be celebrated at 11:00 AM Saturday Feb. 27, 2016 in St. Edward Catholic Church in Mendon with Rev. Father Jim Vinh Le officiating. Burial will be held at a later date. Condolences may be expressed to the family online at www.eickhofffuneralhome