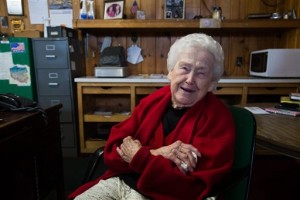 It was during World War II when Mary Gorzenski's husband Joe essentially put in her charge of the family's appliance store.
He took a factory job at the time and told her — perhaps half-jokingly — that if the business flopped and they lost money, it would be her fault.
"At that point, I knew I needed to get my things together and really learn how to run a business," Gorzenski told The Bay City Times. "I prayed the Rosary that night — the same one I still pray today. I prayed everything would work out."
Nearly 75 years later, it's safe to assume things have worked out.
On Saturday, Jan. 30, Mary Gorzenski celebrated her 100th birthday. Two days later, she walked into her business — Joe's Appliance store in Bay City's South End — and sold her umpteenth washer, proving that age is only a number, and when it comes to making sales, she's still got it.
"I have a certain touch with the customers," she said, showing off her confident smirk. "After all of these years, you know a customer is coming in here to buy a washer, to buy something. They just need to know you're going to help them and be honest."
In her century of life, Gorzenski has done it all. She worked as a nanny, made cigars and manned the cash register and decorated cakes at her husband's first business, a bakery. But it was the appliance store that she ended up calling home.
Born Jan. 30, 1916, to Polish immigrants in the United States, Gorzenski was the fifth of nine children. Her father worked as a mason for Jablonski Contracting and as a coal miner at the Unionville Mine. She carries much pride that her father "never took any welfare" to provide for her family.
After completing the eighth grade, like most girls at the time, she was told to focus on cooking and working around the home. It was 65 years later, as a 79-year-old, she returned to school and earned a high school diploma through Bay City's adult education program.
While working as a nanny, she met a baker named Joe who she would fall in love with and ultimately marry in 1934.
The couple opened the Taste-Right Bakery. But after spending too much time baking breads and cakes, Joe Gorzenski developed an allergy to wheat and his doctor told him to try another business.
"I told him, 'Just go work a job for someone like everyone else,'" she said. "But he was a man who needed his own business. "
They sold the bakery and in 1941, opened Joe's Appliance Store. Unfortunately, it wasn't the best time to get into the appliance business. All steel in the U.S. was going toward the war effort, so no new appliances were being manufactured. Plenty of repairs across the city needed to be made, though, and that's where the business started to flourish.
While Joseph Gorzenski was out repairing appliances, his wife was keeping an eye on the shop, even as their family grew. The couple had four children.
They would eventually add onto their shop and build a loft that would become their home. Joseph Gorzenski died in 1985 at the age of 74, but his wife continued to run the shop, and to this day, still lives upstairs.
"My kids are No. 1 and the store is No. 2," Mary Gorzenski said this week. "If I was going to watch the store, I needed a place where I could also watch my kids."
The 100-year-old had four children. Only one, JoAnn Charbonneau, is still alive today. Gorzenski also has four grandchildren and four great-grandchildren.
Six days a week, Gorzenski still walks down a flight of stairs — despite having hip surgery as a 99-year-old — and sits at her desk, greeting customers and answering any questions they may have.
Ask her about her secret to living a long life. "I don't drink alcohol. I don't smoke. And I've always boiled my water. I never liked the way the water tasted from our pipes, so still today, I boil the water."
Her advice for young business owners? "Be patient. Everyone wants to make a lot of money right away. That's not how it works. You have to work two shifts all the time and work like hell."
Also, some advice for women business owners: "Don't be afraid to work with men. I've dealt with a lot of men and they're not too bad."
Favorite appliance brands? "A lot of people complained about Hoover, but I made a lot of money off Hoover. Whirlpool has also treated us very well."
Politics? "I've never missed a presidential election since I was 18. Roosevelt was the first president I ever voted for. He was a real nice man and I liked him. I would vote for him again today, if I could. Maybe it happens as you become older, but I've always been a Democrat, but when Obama started making changes, I thought maybe I need to switch."
Who is she voting for this November? "This is the first time where I really have no idea. I'm not really sure about Hillary. Don't even get me started on Trump. We need someone who understands that nothing is created without hard work."
Retirement isn't on Gorzenski's mind. She says she feels healthy and is taking life one day at a time. It probably runs in the family. She had a sister who died last August who also reached 100 years old.
"If I didn't feel good, I wouldn't be here," she said.
"You can't keep her down," said her granddaughter, Sherry Binder. "It's absolutely amazing. She has this fierce determination to keep my grandfather's legacy going. He started this washing machine repair shop, but to her, it's so much more. That legacy is important."
On Monday, Gorzenski sat behind her desk, her bright, white hair in a perfect perm. She rested one hand on her lap, the other on her chin, looking at her store's showroom, knowing she has lived a good life and has run a business she is proud to call her own.
"And I'll be here again tomorrow," she said.
Just another day on the job.  (AP)