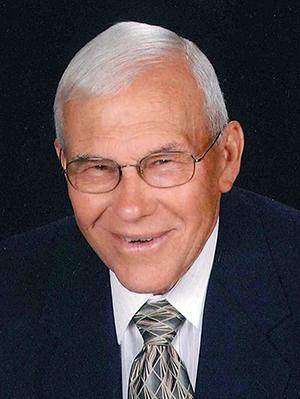 Carl Glen Kline, 82, died Friday, Feb. 5, 2016 at Elkhart General Hospital. He was born on Dec. 3, 1933 at home in White Pigeon to Glen and Nina (Sommers) Kline.
He leaves behind his wife of 63 years, Marian; they were married in Union on Nov. 15, 1952. Also surviving are two daughters, Becky (Gareth) Davies of Rochester, Mich.; Jennifer (Mark) Lindley of Aurora, Colo.; two sons, Greg Kline of Dallas, Texas and David Kline of Elkhart, Ind.; four grandchildren, Sian, Mark, Cameron and Tyler; one great-grandchild, Alexander; two sisters, Theo (Edward) Outman of Middlebury, Ind. and Cleo (Dave) Heath of White Pigeon; a brother, Bruce (Georgia) Kline of Schoolcraft. He was preceded in death by his parents and a sister, Hazel Pickrell.
Carl was a retired dairy, grain and hog farmer and spent many years on the board of the Constantine Co-op and 25 years on the Michigan Milk Producers Association board. In his youth, Carl was an avid sportsman and played football, basketball and baseball for Constantine High School. Carl was an active 4-H member and a representative at the 4-H Club Congress in 1951. He served in the army in 1952 -53 and was member of the Grange. He was a long time member, deacon and elder of the Vistula Christian Church and more recently, a member of First United Methodist Church of Middlebury, Ind.
Visitation will be held on Sunday, Feb. 7, from 1-5 p.m. at Miller Stewart Funeral Home in Middlebury, Ind. Funeral services will take place at First United Methodist Church of Middlebury on Monday, Feb. 8, at 10:30 a.m. with viewing starting at 10 a.m. Services will be conducted by Pastor Ron Russell. Burial will be in Vistula Cemetery, Bristol, Ind. Memorials may be given to First United Methodist Church of Middlebury, Ind.
Online condolences may be sent at millerstewartfuneralhome.com.