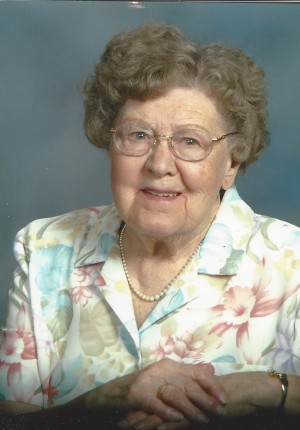 Dorothy Luella Sisson of Marcellus, passed away Saturday, February 27, 2016, at the age of 97 at Bronson Methodist Hospital after suffering a stroke. She was born on February 20, 1919, in Chicago Heights, IL, to Martin and Mayme Nelson. She had two brothers, Jim (Sally) and Bill (Jean), and one sister, Marie (Bill) Mundt.
Dorothy remained in the Chicago area, worked in retail, and married Roy Haut in 1939. He preceded her in death in 1954. She moved to Michigan and married Kenneth W. Sisson in 1957, who nicknamed her "Lovey". She would later say that moving to Michigan was one of the best decisions she ever made. Both Dorothy and Kenneth were extremely active in the community of Marcellus. He was the Fire Chief, and she worked as the Village Clerk for many years. Kenneth preceded her in death in 1977, two days short of their 20th anniversary. She remained supportive of the fire and ambulance departments throughout the rest of her life. Dorothy enjoyed local celebrations such as the Bluegill Frolic parade and was active in children's programs. One of her greatest joys was listening to children read in the elementary school. She was a long-time member of the Marcellus United Methodist Church and served on numerous committees. She found comfort in her faith and delighted in serving the Lord. Dorothy was a woman of many talents and interests. She was adventurous and loved to travel and go camping. One of her favorite places to visit was Alaska where she and Kenneth especially enjoyed fishing. Dorothy was a talented artist. She created many items for local bazaars, a variety of ceramics, and many beautiful oil paintings. She also sewed, knitted, crocheted, and quilted. Learning new skills and sharing her creations made her the happiest. She was a strong, independent woman. Although she lived in a house by herself for many years, she was fond of reminding people that she didn't live alone. She had a way of making people feel special. Her friends and family will miss her kind and smiling eyes, encouraging words, hand-written notes, and non-judgmental wisdom. They have described her as smart, funny, tough as nails, joyful, and a great story teller. She gave unconditional love, in an honest and understanding way.
Dorothy was preceded in death by her parents, brothers and sister, sister-in-law Jean, brother-in-law, son Kenneth Sisson Jr., granddaughter Sarah Sisson, nephews Steven Nelson and Donald Nelson. She is survived by her daughters Judy Mann and Trudy (Jerry) Wright; daughter-in-law Carol Sisson; her grandchildren: Lori Guarisco, Jane (Jeff) Curtis, Jeff Wright, Carol (Vinny) Veneziano, Sue Parmeter, Mark (Lisa) Wright, Karen (David) Visser, Linda (Mark) Matuszewski, Lisa (Jeff) Pangborn, Lesa Ward, and Jenny (Patrick) Thomas; great-grandchildren: Jackie Smith, Justin Harmon, Mitchell Wright, Derek Wright, Heather Wright, Matthew (Erin) Seybert, Adam (Jodi) Seybert, Amy Pipher, Maley Wright, Austin Wright, Annie Pangborn, Travis Ward, Carter Thomas, Joon (Jacqueline) Kim, Daniel Kim, Ethan Veneziano, Dylan Veneziano, Nico Visser, and Anders Visser; great-great-grandchildren: Austin and Zackery Smith, Emaline Seybert, Wyatt and Marlee Seybert, Luminous and Orion Kim; sister-in-law Sally Nelson; and numerous nieces and nephews.
In lieu of flowers, memorial donations may be made to the Marcellus United Methodist Church or the Marcellus Fire Department.
The family will recieve friends from 10 am to noon on Saturday, March 26, 2016 at the Marcellus United Methodist Church. Memorial services will follow at noon.