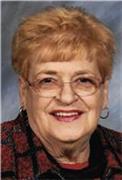 Ione Emma Pappas, age 83, of Sturgis, passed away Tuesday, Feb. 16, 2016, at Sturgis Hospital.
She was born July 30, 1932, in Chicago, a daughter of the late Gustav and Emma (Wolter) Zerbs.
As a teen, Ione moved to Burr Oak, where she graduated from Burr Oak High School. She has since resided in the Burr Oak and Sturgis area.
She was first married in 1952 to Herman Thompson Jr. This marriage ended in divorce. On Oct. 8, 1993, she married James Pappas. He preceded her in death in 1997.
Ione had been employed at Kirsch Company in Sturgis and retired from Kirsch after many years of employment. She was a member of Trinity Lutheran Church and the Red Hat Society. Ione enjoyed golfing, making baskets, casino trips and spending time with her grandchildren and great-grandchildren, especially in the summers in Nottawa.
Surviving are grandchildren Amanda Sigler and Colin Sigler, both of Sturgis, Flynn Kreienbirnk-Thompson, Quinten Thompson, currently serving in the U.S. Marine Corps, stationed in Japan, Jessica Meister of Three Rivers and Jennifer Sigler of Portage; and great-grandchildren Shawn Thompson, Matthew, Veronica, Julieanne, Willow and Alexander Master, and Zoe, Keagan and Ella Meister.
She was preceded in death by her parents; her husband; a daughter, Delores "Dee" Sigler; a son, Richard "Rick" Thompson; a grandson, William Sigler; a sister, Eleanor "Babe" Albrecht; and a son-in-law: Kendall Sigler.
The family will receive friends and relatives from 6-8 p.m. Thursday at the Rosenberg Chapel of Hackman Family Funeral Homes, 807 E. Chicago Road, Sturgis.
Services celebrating the life of Ione E. Pappas will be held at 11 a.m. Friday at the funeral home, with the Rev. Calvin J. Kolzow Jr. officiating.
Interment and graveside services will follow in Oak Lawn Cemetery.
Memorial donations may be directed to the family. Envelopes are available at the funeral home.