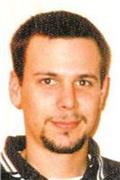 James P. "Jamie" Denaway, 41, of Bowling Green, Ohio, died Monday, Feb. 1, 2016 in LaGrange, Ind.
Mr. Denaway was born Feb. 10, 1974, in Elkhart, Ind., to James A. and Cathy (Spreuer) Denaway.
Growing up in the Topeka, Ind., area, he worked as an electrician. Jamie was an avid sports-watcher and especially loved the Notre Dame Fighting Irish and Indiana Hoosiers. He loved being with his dog, Daisy.
Surviving are his mother and stepfather, Cathy and Carl Stoltz of Topeka; his father, James A. Denaway of Bloomington, Ind.; his children, Ashley Marie Denaway, Andrew James Denaway, Alexie Ann Denaway and Austin Riley Denaway, all of Three Rivers, Madison L. Denaway, Errin S. Denaway and Sean D. Denaway, all of Elkhart, Ind., and Bailey Denaway of Nappanee, Ind.; and a sister, Shannon Denaway of Garrett, Ind.
Preceding him in death were two sons, Joshua M. Denaway and Michael Ford; his grandparents, Philip M. and Lucienne Spreuer, Henry James Denaway and Joan E. Smith; and a stepgrandfather, Agusta L. Smith.
Funeral services will take place at 10 a.m. Friday, Feb. 5, 2016, at Frurip-May Funeral Home, 309 W. Michigan St., LaGrange, Ind., with Revs. Harold Gingerich and Matt Gingerich officiating.
Burial will take place at Greenwood Cemetery in LaGrange.
Visitation will take place 2-4 p.m. and 6-8 p.m. Thursday, Feb. 4, 2016, at the funeral home.
Condolences may be left for the family at www.fruripmayfuneralhome.com.