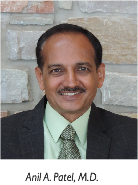 Three Rivers Health is proud to announce the addition of Anil Patel, M.D., to the Three Rivers Health Family Medicine team. Dr. Patel will begin seeing patients March 1 at the Three Rivers Health Center for Family Medicine, located at 850 S. Health Parkway.
Dr. Patel earned his medical degree from Smt. N.H.L. Municipal Medical College. He completed his internship at University MD Hospital and completed his residency at Borgess/Bronson Hospital Michigan State University.
Dr. Patel is a board certified family physician and is a Member of the American Board of Family Medicine.
Delivering primary care services for more than three decades, Dr. Patel is trained to meet the diverse health needs of children and families.
Office hours are 7:30 a.m. – 5 p.m., Monday – Friday, with same day appointments available. To schedule an appointment, call 269.279.5240.
For over 90 years, Three Rivers Health has offered its patients and community technology-driven care, including a wide array of inpatient, rehabilitation, outpatient, wellness, hospice care and specialty clinic services. To discover more about Three Rivers Health, call 269.278.1145 or visit threerivershealth.org.