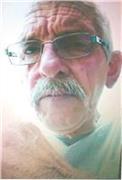 Richard Daniel Trattles, age 63, of Sturgis, passed away Monday afternoon, Feb. 8, 2016, at his home.
He was born Feb. 21, 1952, in Three Rivers, a son of the late Jack and Shirley (Magisen) Trattles.
Richard resided most of his life in the Three Rivers and Sturgis area.
He was first married to Sharon Lovejoy. This marriage ended in divorce after 25 years of marriage. On March 30, 2002, he married Tammy Doles in Howell.
Richard was a truck driver by trade and worked with several area farming operations, including Fairgrove Farms, King Farms, Scattered Acre Farms and Glenn Miller Farms.
He attended First Presbyterian Church in Sturgis and enjoyed watching television and loved feeding the squirrels.
He is survived by his loving and dedicated wife, Tammy; four daughters, Stacey Trattles of Three Rivers, Tabitha Hunt of Yankton, S.D., Elizabeth (Juan) Martinez of Port Charlotte, Fla., and Maria Lisa (Omar) Thompson of Atlanta; five sons, Scott (Natalie) Trattles of Sturgis, David Trattles of Kalamazoo, Justin Hunt of Sturgis, Gregory (Heather) Hunt of Yankton and Travis Hunt of Yankton; 16 grandchildren; a sister, Kim (John) Garcia of Three Rivers; a brother, Robert (Danine) Trattles of Independence, Ky.; and many aunts, uncles, cousins, nieces and nephews.
The family will receive friends from 2-4 p.m. Saturday at the Rosenberg Chapel of Hackman Family Funeral Homes, 807 E. Chicago Road, Sturgis.
Funeral services celebrating the life of Richard D. Trattles will begin at 4 p.m. Saturday at the funeral home. The Rev. Michael Wicks of First Presbyterian Church in Sturgis will officiate. In accordance with Richard's wishes, cremation will follow the services.
Memorial donations to the family would be appreciated to help with expenses, c/o Tammy Trattles, 508 Albert St., Sturgis, MI 49091.
His obituary is also at
www.hackmanfamilyfyuneralhomes.com
, where personal messages of support may be left for the family.