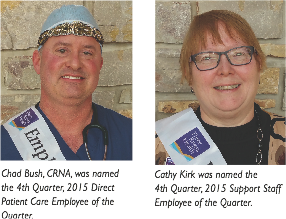 Three Rivers Health is pleased to announce Chad Bush, CRNA, Direct Patient Care, and Cathy Kirk, Support Staff, for being selected as our Employees of the Quarter for the fourth quarter of 2015.
Chad Bush has been with Three Rivers Health since December 2014.
Chad has made a significant impact in the OR and on the Anesthesia team. He has gained the respect of his peers, co-workers and patients. He demonstrates leadership, flexibility and kindness to everyone.
Cathy Kirk has been a Unit Clerk on Acute Care since 2010, after working as a Front Desk Attendant and a Physical Therapy Tech.
Cathy's co-workers say she is conscientious, a pleasure to work with, and they appreciate everything she does. Cathy has had several Employee of the Quarter nominations since the program started.
Both employees are each awarded $500, one paid vacation day and the opportunity to select any parking space they want for the next 90 days. Congratulations to both Chad and Cathy!
The Employee of the Quarter program is designed to honor staff excelling in one or more of the Standards of Excellence at Three Rivers Health. Those standards are Respect, Accountability, Communication, Service/Quality and Safety Awareness.
For over 90 years, Three Rivers Health has offered its patients and community technology-driven care, including a wide array of inpatient, rehabilitation, outpatient, wellness, hospice care and specialty clinic services. To discover more about Three Rivers Health, call 269.278.1145 or visit threerivershealth.org.