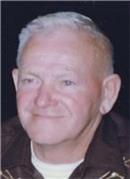 Robert Miller, age 93, of Burr Oak, passed away late Monday evening, March 7, 2016, at Thurston Woods Village in Sturgis.
He was born Dec. 15, 1922, in Sturgis, a son of the late Elmer and Elsie (Bush) Miller.
Bob resided in the Burr Oak and Sturgis area his entire life.
On Sept. 7, 1946, he married Roberta A. "Bobbie" Gest in Howe, Ind. She died Dec. 24, 2011.
Bob retired from Sturgis Newport Business Forms in Sturgis following many years of dedicated employment.
He was a member of Eagles Lodge #1314. He enjoyed dancing and seemed to always be doing some farming and raising of livestock and he loved traveling to and spending time at his farm in Beulah in Northern Michigan.
Bob is survived by a daughter, Colleen (Brian Miller) Holst of Burr Oak; and many nieces and nephews.
He was preceded in death by his parents; his wife; a sister, Florence Flowers; and eight brothers, Clyde, Gene, Junior, Vernon, Harold, Norman, Floyde and Kenneth Miller.
The family will receive friends from 5-8 p.m. Friday at the Hackman Chapel of Hackman Family Funeral Homes, 114 S. Nottawa St., Sturgis.
Funeral services celebrating the life of Robert Miller will be held at 11 a.m. Saturday at the funeral home. The Rev. Dennis DeMott of First Baptist Church of Sturgis will officiate. A graveside committal will follow the service at Burr Oak Cemetery in Burr Oak.
Memorial donations to the family would be appreciated, c/o Colleen Holst, 67465 Spaid Road, Burr Oak, MI 49030.
His obituary is also at www.hackmanfamilyfuneralhomes.com, where personal messages of support may be left for the family.