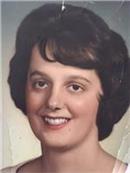 Clara Mae Green, age 71, of Coldwater, passed away Friday, March 25, 2016, at Maple Lawn Medical Care Facility in Coldwater.
She was born Dec. 17, 1944, in Colon, a daughter of the late Ore and Treva (Strome) Metzger.
Clara had been a resident of the Bronson and Sturgis area all her life and had resided in nursing home care for the past 20 years.
She was first married to Richard Vargo, then to David K. Green.
She had been employed at Walter Dimmick Petroleum and Wal-Mart and enjoyed bowling and spending time with, and spoiling, her grandchildren.
Surviving are a son, Eric (Stephanie) Vargo of Quincy; a daughter, Judy (Chuck) Zerbe of Sturgis; eight grandchildren, Lindsay (Scott) Saunders, Shane (Kalinna) Richardson, Nicholas Sample, Kristine (Marcus) De La Garza, John Vargo, Tabetha (Ernesto) Rivas, Ariel Heiber and Ridge Heiber; eight great-grandchildren; three brothers; seven sisters; and numerous nieces and nephews.
She was preceded in death by her parents; her husbands; a daughter, Teresa Lee Heiber; and a sister, Judy Metzger.
The family will receive friends and relatives from 4-8 p.m. Monday at the Rosenberg Chapel of Hackman Family Funeral Homes, 807 E. Chicago Road, Sturgis.
Services celebrating the life of Clara Mae Green will be held at 2 p.m. Tuesday at the funeral home, with Pastor Robert St.Clair officiating.
Graveside services and interment will follow at Pleasant Hill Cemetery in Bronson, Michigan.
The family suggests memorial donations be directed to Juvenile Diabetes Association. Envelopes are available at the funeral home.
Her obituary is also at www.hackmanfamilyfuneralhome.com, where personal messages of support may be left for the family.