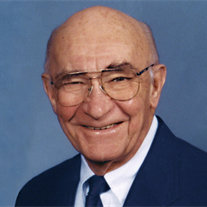 Richard Lee (Dick) Milliman died Saturday, March 26, 2016 after suffering a stroke.
He was born July 31, 1927 in Coldwater, MI to Raymond O. and Bernice (Swantek) Milliman. After graduation from Coldwater High School in 1944, he attended the University of Michigan on scholarship in the pre-law curriculum for one year before entering the U.S. Army. He was stationed in the Philippine Islands until his discharge. He returned to Michigan and attended Michigan State University, where he was graduated with a major in Journalism and a minor in Political Science.
After graduation he began a long and illustrious professional journalism career that actually began when he was in high school and college working part time and summers at the Coldwater Daily Reporter. After college he first worked for the Holland Evening Sentinel for three years before joining the Lansing State Journal in 1953, where his reporting focused on the legislature, state elective and administrative offices, state elections and conventions. He wrote weekly column, "Capital Jottings," on state employee and agency matters. Much of his copy was also published in the Battle Creek Enquirer and Grand Rapids Herald.
While at the Journal, he met and fell in love with fellow employee Donna Grisdale. They were married April 7, 1956 at St. Mary's Cathedral in Lansing.
In 1961 he left the Journal when he was named Executive Assistant to the Mayor of Lansing. In 1962 he joined the George Romney campaign for governor and served as Romney's press secretary during the campaign, worked on Romney's four-member transition team, and was named Executive Assistant for Public Information and Press Secretary following Romney's election. He also served as Executive Director of the Governor's Panel on Ethics and Morals in Government. He stayed with the Romney team through his second-term re-election.
In 1965 he joined Mid State Broadcasting (later Panax Corporation) to run that company's newspapers in Mt. Pleasant and Alma, and to work on acquisitions for the company.
He rejoined the Romney team during Romney's presidential campaign and then began his own career in newspaper ownership and management.
In 1967 he purchased the Crawford County Avalanche in Grayling. During the next 35 years he went on to own or start weekly newspapers in Reed City, Lake City, Clare, Howell, Camden, Fowlerville, Milford, Hartland, Pinckney, Brighton, Grand Ledge, Delta/Waverly, Portland, St. Johns, Charlotte, DeWitt, Bath, Rogers City, Onaway, East Lansing, Williamston and Mason. He also owned daily newspapers in Dowagiac, Three Rivers, Albion and Marshall. He never retired from the newspaper business, even after selling his company to his children in 2002. He served as a board member and advisor to the company and continued to write his weekly column, The Almanack, until his death.
He served as director and president (1979) of the Michigan Press Association; director and president (1972) of Michigan Newspapers Inc.; served on the State News Board of Directors for 26 years including four as president; and was active in several other newspaper and journalism organizations. In 1980 he founded the Michigan Press Association Foundation, an organization that gives scholarships to college students and also helps finance a continuing commitment to the promotion of excellence in community journalism. He served as Foundation president for 25 years. He also was an adjunct professor of journalism at both Central Michigan University and Michigan State University, teaching classes in reporting and editing and founding the Capitol News Service at MSU.
In 1994 he was elected to the Michigan Journalism Hall of Fame. He was also elected to the Central Michigan University Journalism Hall of Fame in 2008; was named Outstanding Alumnus, College of Communication Arts, Michigan State University in 1979; and enshrined in the State News Alumni Hall of Fame in 2008.
Politics was a lifelong avocation. In 1955 he earned a Congressional Fellowship from the American Political Science Association to work in Washington with Rep. Gerald Ford. He served on the Michigan Civil Service Commission from 1967-71; was elected five times to the Eaton County Board of Commissioners (1969-79); and ran as the Republican nominee for Congress in Michigan's Third District in1982.
Dick was always involved in his community and his church. His deep Catholic faith sustained him every day of his life. A charter member of St. Gerard's Parish, he served on the Parrish Council for nine years and enjoyed being a member of the choir. He was also member of the original Delta Township District Library Board of Directors for 13 years; was a Rotarian since 1970 and club president in 2007 of the Delta Waverly Rotary Club; and in 2013 was named Delta Township Legacy Award winner.
An avid baseball and fast pitch softball player in his youth, Dick coached both youth baseball and youth softball, was an avid bowler and loved to compete on the golf course. He held Michigan State football and basketball season tickets for more than 25 years. He never missed a child's or grandchild's athletic event, concert, performance or award ceremony.
Dick was preceded in death by his parents, wife Donna, brothers Raymond and Robert, and sisters Jeanette, Phyllis, Patricia, Bernice, Joyce and Shirley.
He is survived by one brother, Arthur (JoAnn), of Flint, sister-in-law Betty (Nyle) Haggart of Clare and his children: Teresa (David) Brandell of Lansing, Dirk (Penny) Milliman of Haslett and Ann Marie (Mike) Epstein of Lansing. Also surviving are the nine grandchildren he adored: Stephanie (Mark) Arduini of Richmond, VA; Joshua (Chelsea) Fitzwater of Minneapolis, MN; Leslie (Matt) LeBlanc of Grayling; Joseph Fitzwater of Baton Rouge, LA; Callie and Logan Milliman of Haslett; Danielle Epstein of Tecumseh; Allison Epstein of Chicago, IL; and Adam Epstein of Lansing and six great-grandchildren: Jameson Milliman, Henry and Eleanor Arduini, Louis and Elizabeth LeBlanc and Tenley Milliman; and many nieces and nephews.
Visitation will be at Tiffany Funeral Home, 3232 W. Saginaw, Lansing, on Tuesday, March 29 from 2-4 and 6-8 p.m. with Rosary at 7 p.m. Funeral Mass will be at 10:30 a.m. Wednesday, March 30 at St. Gerard Catholic Church, 4437 W. Willow, Lansing with Fr. David Fons presiding. Additional visitation starting at 9:30 a.m. Wednesday at church. Interment will be at St. Joseph Catholic Cemetery.
In lieu of flowers, donations may be made to the Michigan Press Association Foundation, 827 N. Washington Ave., Lansing, 48906. Friends may visit the guest book at www.tiffanyfuneralhome.com.